Top Quality Chemicals And Supplies Available At Seaway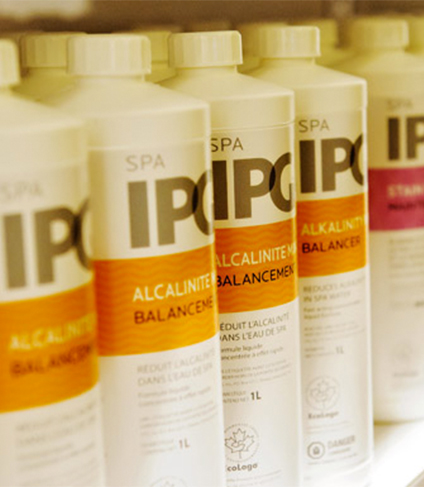 IPG Pool Chemicals
Unlike big box retailers, Seaway Pools & Hot Tubs carries the professional grade line of International Pool Group (IPG) brand chemicals. This includes a wide range of products to meet your watercare needs, such as exclusive products like the ALG GO, Fix Shock Treatment, Solution 48 and Aqua Foot chemicals.
ALG GO: A 3-in-1, easy-to-use solid tablet to eliminate algae in your pool. Using ALG GO once per week can destroy any growing algae, allowing you to ensure proper water quality, improve temperature regulation and reduce debris and waste buildup in filter systems. The tablet dissolves completely in 48 hours and can be placed in a skimmer or pump basket to allow for easy treatment and peace-of-mind when it comes to your water quality.
Fix Shock Treatment: The popular Fix Shock Treatment comes in a convenient 300g pouch and is able to actively destroy plant residues (algae, leaves) and skin residues in pool water. The treatment helps improve clarity and filtration efficiency and is a quick, effective and easy solution to incorporate into your normal watercare routine.
Solution 48 Kit: An all-in-one kit for re-opening your pool after its been out of use for the winter. It has guaranteed results within 48 hours and includes a Shock, Oxy and Energy solution in addition to Klear-Sok. The Solution 48 Kit is a convenient and efficient package for getting your pool ready for the summer months!
Aqua Foot: The IPG brand's chlorinating tablets can be uses for daily maintenance of bacteria and algae levels within your pool. Use these convenient tablets in your watercare routine to ensure consistent water quality in your pool.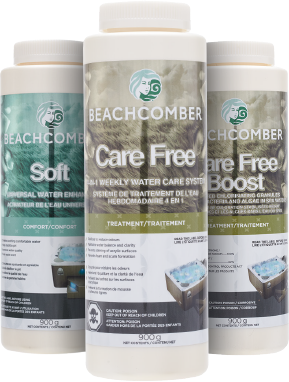 Beachcomber Hot Tub Supplies and Chemicals
At Seaway Pools & Hot Tubs, we also sell professional grade Beachcomber brand hot tub chemicals. These supplies are available exclusively at recognized dealers and can't be found at other big box retailers. This range of high quality Beachcomber products includes any of the necessary hot tub cleaning supplies for your regular watercare routine, such as chemicals to control bacteria and algae and to maintain water pH levels. We also sell Beachcomber brand hot tub covers, cover removers and custom covers depending on your specific needs. Whether you have a fair-weather hot tub or intend to use it throughout the Canadian winter, our expert team at Seaway can help you with any watercare and accessories you may require.