Custom Swimming Pool Builders in Whitby
Do you long to take a plunge in a beautiful backyard swimming pool on hot summer days?
Are you looking for a way to elevate your landscaping and backyard functionality?
Has a swimming pool been on your home checklist?
Turn your backyard dreams into a reality with one of the best pool builders in Whitby, Seaway Pools & Hot Tubs.
For 4 decades, Seaway Pools & Hot Tubs has been one of the leading pool companies in Whitby, the Greater Toronto Area, and Southern Ontario. We're here to help homeowners like you upgrade and revitalize their backyards with custom swimming pool designs that are modern, attractive, and personalized to your style.
Custom Swimming Pool Services at Seaway Pools & Hot Tubs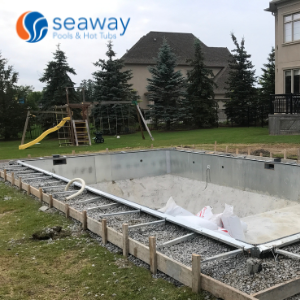 We are your one-stop-shop for all your swimming pool needs:
Plunge Pools
Inground Pools
Above Ground Pools
Semi Inground Pools
Saltwater Pools
Swimming Pool Liners
Pool Reconstruction
Swimming Pool Technology
Plunge Pools: Good Things Come in Small Packages
Are you not sure if a swimming pool will fit in your backyard? Plunge Pools give you all the functionality and aesthetic of a traditional swimming pool in a smaller size. As one of the first plunge pool builders in Whitby and all of Ontario, Seaway Pools & Hot Tubs provides a strategic approach that guarantees quality, style, and a 'wow' factor your home truly deserves.
Inground Pools: High-Quality Swimming Pools Built to Last
No day is too hot or too boring when you can cool off in a backyard swimming pool. An inground pool is a long-lasting investment that increases your property value while transforming your backyard into an oasis, perfect for entertaining, solo swimming, or family fun.
Swimming Pool Reconstruction: Revitalize an Old Pool
Does your home have an old swimming pool you don't love anymore? Upgrade it with the top swimming pool company in Whitby, Seaway Pools & Hot Tubs. Repair the concrete and frame of your pool, upgrade your vinyl liner, or even retrofit the design to improve energy efficiency.
Swimming Pool Technology: Run Your Swimming Pool on Innovation
A swimming pool is more than just a place to take a plunge. The beauty of the best swimming pools in Whitby comes down to all its features. With Seaway Pools & Hot Tubs, you can introduce custom design features from lighting to maintenance equipment for maximum performance.
Why We Are a Favourite Pool Company in Whitby
Experience: Seaway Pools & Hot Tubs has been making homeowners' backyard and swimming pool dreams come true since 1982. With 40 years of experience on our back, we are confident in our work.
Custom: You're not confined to one-dimensional and standard swimming pool designs. Our swimming pool builders in Whitby enable customizations from the shape, stones, and functionality of your pool.
Supplies: We are more than just a pool company in Whitby that constructs backyard swimming pools. You can easily find all your essential swimming pool supplies and fun accessories in our online store or in one of our two GTA locations (Markham & Newmarket).
Maintenance: If you're new to swimming pool maintenance or don't have the time, you don't have to worry about it. Seaway Pools & Hot Tubs is a full-service pool company offering maintenance services in Whitby, from opening and closing to regular maintenance and free water analysis.
Quality: We want the best for our customers. That's why we always prioritize quality, from the materials we use to the construction and the performance of your swimming pool.
Ready to Start Living Your Best Backyard Life? The Time is Now.