Hot Tub Supplies and Accessories
As the weather begins to turn colder, it is the perfect time to reinvest in your home hot tub. All winter long you can enjoy the warmth and relaxation of your backyard hot tub with the right accessories and maintenance supplies. Whether you are a seasoned hot tub user or are looking to purchase your first hot tub, Seaway's Beachcomber hot tub store online can help you find everything you need. From Beachcomber hot tub models to supplies and accessories, it's all available through our online hot tub store. Here are the most important hot tub supplies and accessories you'll need this winter.
Hot Tub Supplies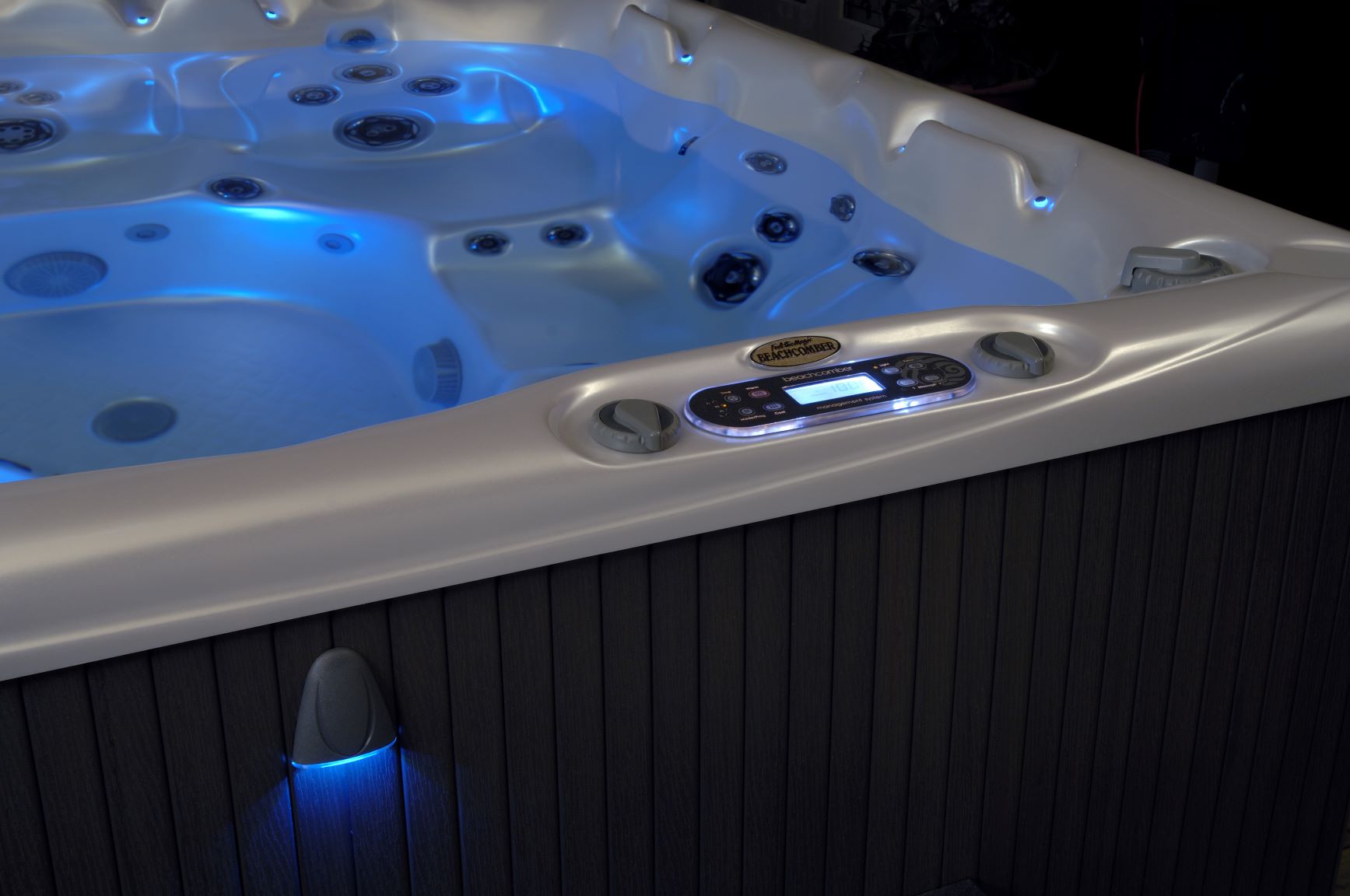 Hot tub supplies either enhance the functionality or longevity of backyard hot tubs. At Seaway Pools & Hot Tubs, we stock a wide selection of accessories and equipment in addition to high-quality Phantom and Beachcomber hot tubs in Toronto in our online hot tub store.
Hot Tub Covers: Covers offer many benefits to hot tub owners. When you buy a hot tub in Toronto, it's wise to pick up a cover from the hot tub store at the same time. Covers offer insulation, protect against debris, and streamline maintenance. Your other hot tub supplies typically last longer by regularly using a cover. The insulating qualities of a hot tub cover keep water hotter, improving your tub's energy efficiency and keeping rainwater out, reducing contamination. Covers also double as a safety precaution by acting as a barrier to keep small children out.

At Seaway, our online hot tub store carries a range of Beachcomber hot tub covers for rectangular and round models in a range of sizes. A new hot tub cover will help keep heat in your tub and reduce energy costs. It will also allow you to increase the heat of your tub quickly. In addition to a new cover, our online store carries cover removers to help you open and close your hot tub with ease.
Cover Lift: Stretching across your hot tub to attach and remove the cover is tedious and strenuous. One of the most wanted hot tub supplies, the cover lift add-on easily covers and uncovers your tub, making use easier for everyone. However, cover lifts are more than just a convenient addition, and they extend the lifespan of your cover and, in turn, your hot tub itself. When you use a lift, you won't have to leave your cover on the ground where it can deteriorate from getting stepped on or friction against the pavement, rocks, and wind. Our hot tub store is stocked with a range of covers and cover lifts to fit your backyard tub.
Safety Railing: When using your hot tub in the winter, it is important to pay close attention to your personal safety. We recommend wearing shoes to access your outdoor tub and placing mats near your stairs or entrance to avoid slips. Adding a safety railing can additionally help to avoid any slips or falls while people are entering or exiting the hot tub. The safety rail available through the Seaway website also includes a light to help you locate the railing in the dark.
Floating Thermometer: One of the best parts of owning a hot tub is being able to adjust the temperature to meet your personal preferences. A floating thermometer can help you keep track of the temperature and ensure your tub is maintaining its temperature as expected.
Maintenance Kit: The 7-piece maintenance kit available through Seaway's online store contains everything you will need to keep your tub clean all year long. This includes a spa brush, a spa scoop, a 3-section aluminum pole, a spa cleaning mitt, a floating thermometer, a spa chemical dispenser, and 2 absorbent starfish sponges.
Filters: Your filters are one of the critical hot tub supplies to the long-term functionality of hot tubs in Toronto. Filters help circulate clean, hygienic water, pulling out debris that can leave the water unbalanced. Every two to five years, filters will need to be replaced. But they should be assessed during regular maintenance. Cold weather, filter backups, and physical damage can cause breakage to filters requiring replacement. You can buy replacement filters from our online hot tub store and keep a backup on hand.
Hot Tub & Spa Vacuum: The most important hot tub supplies are the tools that streamline maintenance. Spa vacuums allow you to remove debris like gravel, leaves, and rocks in just a couple of minutes. We stock long-handle spa vacuums at Seaway Pools & Hot Tubs in our online hot tub store. It allows you to easily reach the bottom and the corners of your hot tub without draining your tub or overextending your reach. Because it doesn't need a power source, the hot tub vacuum is usable year-round in all weather conditions.
Fire Feature: One of the reasons hot tubs in Toronto are so desirable is because they can be used all year, even in the snowy winters. When you're done in your spa, a fire feature or backyard fire pit can add in some extra warmth. As the weather cools down, fire pits enhance the functionality of your backyard, allowing hot tub users to switch from the heat of the hot tub to the warmth of a fireplace.
All-In-One Water Care Kit: Although water care materials can be purchased individually, an all-in-one kit helps to conveniently package everything you need for water maintenance. The IPG Spa Kit includes all the chemicals and cleaners you will need to keep your water clean and safe this year.
Aromatherapy: Hot tubs are already a zone for stress relief and relaxation, but aromatherapy-focused hot tub supplies can help maximize and personalize the psychological and physiological benefits of hot tubs. At Seaway Pools & Hot Tubs, we stock a range of aromatherapy accessories from hot tub bombs to Epsom salts, sports crystals and more. By picking your favourite essential oil or combination, you enhance benefits like reducing anxiety, improving mental alertness, balancing your mood, or boosting energy. Our range of in-store and online aromatherapy Epsom salts are geared towards everything from neural (Lavendula) to respiratory (Eucalyptus) benefits. You can even stock CBD hemp bombs loaded with essential oils.
Seaway Pools & Hot Tubs, Beachcomber hot tub store online carries everything you will need to keep your hot tub clean and ready for use this winter. Our online hot tub store carries everything from water care materials to equipment and replacement parts. To learn more about our Beachcomber hot tub models or accessories, contact the Seaway team today.