Why You Should Install a Hot Tub this Autumn
Sometimes the arrival of Fall or Autumn can be treated as a sad note in Toronto and the surrounding areas. Darkening leaves and a chill in the air signifies the end of Summer. But Fall doesn't have to be a bad thing. With a Beachcomber hot tub in your backyard, the Fall can be something to look forward to.
Beachcomber hot tubs are a great way to unwind, entertain, and improve your health all year round. If you want to reap the benefits, visit the hot tub store online or in person from Seaway Pools & Hot Tubs today.
Read on to see why a Beachcomber hot tub is a perfect addition to your home ahead of this Fall.
More Time Outdoors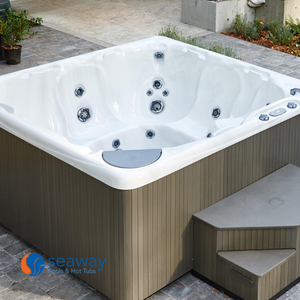 Just because it's not hot anymore doesn't mean we should be spending less time outside. Fresh air is best accessed outdoors and improves oxygen levels, improving your immune system, digestive health, blood pressure, and lung health. More time outside has even been linked to feeling happier and sharper thinking. Fight the temptation to resign to the indoors once temperatures drop with a Beachcomber hot tub. A hot tub makes being outdoors in the fluctuating weather patterns of autumn far more enjoyable. When you choose a Beachcomber hot tub, you can benefit from easy to manage water temperature control, thus making you more inclined to go outside and get fresh air.
Muscle Therapy
Research shows that colder weather can make muscles tense up and contract as a result of heat loss. This can result in pain and reduced range of motion, making everyday tasks difficult and frustrating. The warm water therapy effects of a Beachcomber hot tub can help relieve muscle pain that becomes worse in the Fall by warming up cold muscles, tendons, and joints for better pain-free movement. By soaking in a hot tub, you can also loosen muscles to prevent future injuries.
Year-Long Use
If you're thinking about installing a hot tub in the Fall, you might be wondering what happens in the Winter? Well, if you want to visit our online hot tub store or visit Seaway Pools & Hot Tubs in person, you don't have to worry about closing your hot tub at the end of the season. All you have to do is modify how you care for your hot tub, and you can keep using it even in the Winter.
Anxiety & Stress Management
When the Summer ends, there is typically a shift towards work and school that's more intense than in the warmer months. During this time, it's not uncommon for you or the people around you to feel more anxiety, stress, and burnout. This experience can lead to poor sleep quality, which makes mental health stressors intensify. A hot tub can help minimize the impact of this vicious cycle. In addition to the downtime and relaxation of a backyard hot tub, the warm water can also significantly improve sleep patterns. The immersion into warm water followed by the quick cool down upon exiting a hot tub helps remedy your circadian rhythm facilitating better sleep.
Shop our online hot tub store or visit in person to order your Beachcomber hot tub in time for Fall!