Why You Should Drain and Fill You Hot Tub
Regardless of how you spend your day, whether it's taking care of the family, studying, or working away at the office, hot tubs in Toronto offer a wonderful way to de-stress after a long day. To maintain the escape that your hot tub offers, routine maintenance is vital. Regularly scheduled hot tub maintenance helps to sustain cleanliness, safety, and functionality, while also extending the lifespan of your tub and protecting your investment. One essential step that must be taken every so often is drain and fills. At Seaway Pools & Hot Tubs, we stock easy-to-use drain and fill kits that help you easily care for your tub. You can also schedule hot tub maintenance services with our team for expert care from our service specialists.
Water Quality and Sanitation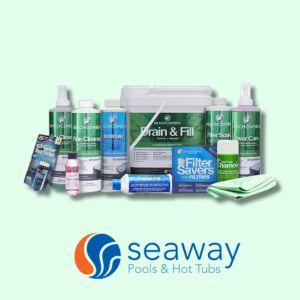 Maintaining pure and hygienic water is of utmost importance for hot tubs. With time, a variety of contaminants, such as body oils, lotions, and other impurities, can amass in the water, undermining its quality. The failure to treat the water properly can result in the rapid growth of detrimental bacteria and algae. By routinely draining and refilling your hot tub, you can replenish the water and start with a clean slate. This practice guarantees that you and your guests can relax in a safe, pleasant soaking experience devoid of skin irritations or infections. Regular water changes also foster a harmonious water chemistry. They enable you to fine-tune sanitizer levels, pH, and alkalinity to maintain an ideal balance. Disregarding these factors can result in murky or unpleasant-smelling water, inducing discomfort and bother among hot tub enthusiasts. Consistently tending to water quality safeguards the longevity of your hot tub and reduces the need for extensive cleaning and repair efforts.
Prolonged Equipment Longevity
Components that are susceptible to wear and tear include pumps, filters, and heating elements, especially when exposed to impurities present in the water. A regular routine of draining and refilling your hot tub can extend the lifespan of these vital elements. Draining the hot tub gives the opportunity for a thorough interior cleaning, eliminating any accumulated debris, scale, or mineral deposits. Use professional maintenance services in Toronto, Seaway Pools & Hot Tubs, to help with the process. This will help ease the strain on the equipment, ensuring they function with optimal efficiency. Extended exposure to dirty or chemically imbalanced water can lead to corrosion, clogs, and, eventually, costly repairs. By proactively tending to your hot tub's water quality through periodic draining and refilling, you can safeguard your finances against replacements and repairs in the long term.
Better Energy Efficiency
Hot tubs in Toronto are notorious for their energy consumption as they require a significant amount of electricity to uphold water temperatures. When the water becomes tainted or imbalanced, it places added stress on the heating system, compelling it to work harder to maintain the desired temperature. This increased workload results in heightened energy bills. By routinely draining and refilling your hot tub, you ensure that the water remains uncontaminated and chemically balanced, alleviating the burden on the heating system. Starting with a clean slate, the heating elements can more efficiently sustain the water temperature, affording savings on energy expenses. This practice is both environmentally responsible and financially effective.
Aesthetic Appeal and Enjoyment
Finally, preserving the visual and sensory allure of your hot tub is crucial for an enjoyable experience. Cloudy water can be uninviting and unattractive, diminishing your inclination to use your hot tub. Conversely, clear and clean water elevates the overall aesthetic of your hot tub, rendering it an appealing focal point in your outdoor space. Regular water changes, coupled with diligent cleaning and maintenance, guarantee that your hot tub remains an attractive focal point in your garden or patio. You and your guests can unwind in a serene and aesthetically pleasing environment, heightening the overall hot tub experience.
Streamline Hot Tub Care with Seaway Pools & Hot Tubs
Seaway Pools & Hot Tubs advocates that the act of draining and refilling your hot tub isn't just a chore—it's a fundamental step in ensuring water quality, equipment durability, energy efficiency, and aesthetic allure. For all your hot tub essentials and accessories, trust the leading name in Ontario's pool and hot tub community.