Throw The Ultimate Hot Tub Holiday Party In Toronto
The great thing about hot tubs in Toronto is that even when the city is blanketed in snow, they're a cozy venue that's open year-round. When it comes time for your family holiday party this winter, keep things interesting with beachcomber hot tubs and accessories from Seaway Pools & Hot Tubs. Our trusted team will help you throw the ultimate holiday soiree in your hot tub and get you everything you need, from patio furniture, fire pits and other things you have on your wishlist.
Here are some must-haves for hosting the ultimate holiday party for hot tubs in Toronto this season.
Patio Furniture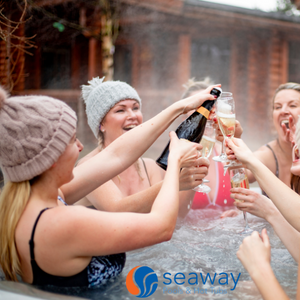 Enhance your party with conversational sets, bistro tables, chairs, and chaise lounges. At Seaway Pools & Hot Tubs, there's plenty of outdoor furniture that fits any backyard aesthetic and is designed to last through any climate. Aside from patio furniture, you can also browse for surround seating for beachcomber hot tubs. Providing extra seating ensures that everyone's able to dip their feet in and warm up during your party.
Outdoor Heating and Firepits
Outdoor heating systems are a marvellous way to keep the party going from your hot tub to your patio. Pair a heating system with a comfortable chaise lounge from Seaway Pools & Hot Tubs, and your party will go until late in the night. Outdoor heaters come in many different looks and shapes, from cosmopolitan to minimalist and comfortable — whatever fits your backyard oasis.
Fire pits are also a fantastic experience to help keep your party guests warm. A fire pit effectively amplifies your holiday party, and much like outdoor heaters, you have the choice of any aesthetic from our selection online or in-store.
Lighting
Although nighttime comes significantly earlier during the winter, it doesn't mean you have to stay inside. Hanging decorative lights around your patio and hot tub creates your very own festive winter wonderland and gives it a magical feel. Lighting creates comfortable, inviting atmospheres that are hard to leave. Whether it be fairy lights draped from your fence, outdoor Christmas lights, or solar lamps around your hot tub, they're an integral part of keeping your backyard and patio festive and bright.
Holiday Food and Drinks
When planning your holiday hot tub party, it's essential to keep in mind that warm water will keep everyone's appetite at lower levels. Make simple — yet festive — appetizers that everyone will enjoy, such as candy canes, gingerbread cookies, or sugar cookies. As for drinks, mulled wine might seem like the go-to drink, but warm water and alcohol don't tend to mix well. While you and your friends are in the hot tub, perhaps offer non-alcoholic beverages, and once you've moved out of the hot tub, then make mulled wine, hot chocolate, and eggnog readily available.
Privacy Trellis
Keep your party exclusive with a privacy trellis around your hot tub and backyard. Pergolas and privacy trellises are an excellent mix of looks and function and transform any backyard into something extraordinary.
Throwing a holiday party is always fun, but it's even more so when it's in your hot tub in your backyard winter oasis. Visit Seaway Pools & Hot Tubs, where our trusted team will help you find anything you desire while guaranteeing style and durability.