Keep Your Resolutions With a Hot Tub in Toronto
The end of the year brings time for self-reflection, self-care, and self-love; what better way to tackle all three of those than with a hot tub in Toronto. As you look towards 2022 and assess how you will use the next year to become the best version of yourself, consider that a Beachcomber hot tub from Seaway Pools and Hot Tubs may help you achieve all of those goals.
Here are 3 resolutions you can get closer to achieving in 2022 with a hot tub in Toronto. Browse our online hot tub store or visit Seaway Pools & Hot Tubs in Markham or Newmarket to choose your perfect hot tub before the year ends.
Health, Fitness, and Weight Loss Goals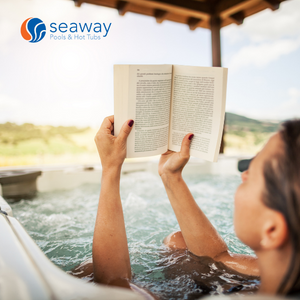 A Beachcomber hot tub provides an excellent exercise environment for everything from resistance training and low-impact cardio to weight training. Exercising is on virtually everyone's to-do list, but it's sometimes difficult to keep up with a diligent gym or workout regimen. A backyard hot tub is convenient, effective, and a great way to shake up your exercise routine. Not only does it help improve endurance with low-impact water aerobics, but it may also help boost metabolism and burn calories.
In addition to exercise, a hot tub in your Toronto backyard will help you achieve your weight loss goals. Soaking in your hot tub has the potential to raise your metabolism, making it easier to burn calories. While soaking in the hot tub isn't meant to replace exercise altogether, it is a good option to boost metabolism, especially for those who find it challenging to exercise.
De-Stress and Relax
It's completely understandable if you want to start 2022 off relaxed and recharged — and a hot tub will help you do just that. Even if your life is still hectic in the same ways as 2021, a hot tub could be your new form of self-care and de-stressing. The hot water and jets of a Beachcomber hot tubs enable relaxation, and what better way to unwind from a busy workday than soaking in your hot tub, especially during those dark and chilly winter evenings.
To further create a relaxing and ambient atmosphere, try playing soft music around your hot tub, putting up cozy lights, or even look into aromatherapy to go the extra mile. A hot tub creates a private, relaxing sanctuary that helps you unwind from the day. If you're interested in outdoor decor to make your backyard an exclusive and relaxing oasis, come to Seaway Pools and Hot Tubs to see what we have to offer.
Improve Sleep
Soaking in your hot tub is incredibly beneficial before bed. Not only does it help us forget about stress, but a hot tub takes the pressure off your body and loosens our muscles and joints. It's difficult to sleep when you're in pain, and unfortunately, many of us go to bed each night with muscle or joint pain. A hot tub provides the ultimate solution for that; the massaging jets, combined with the floating effect of the water, helps relieve body and muscle pain. Even if you're in the hot tub for just 15 minutes before bed, it helps ease the pain that interferes with your restful sleep.
Seaway Pools & Hot Tubs is here for all your swimming pool and hot tub needs.
Contact us today to learn more about our selection of hot tubs in Toronto.