How to Overcome Hot Tub Testing Trouble
Despite cold winters or rainy springs, hot tubs in Toronto can be used for the entire year, as long as they're well taken care of. For those who struggle with maintenance, the right hot tub supplies and the support of a professional hot tub service provider can help facilitate care for your hot tub. Even with all that help, it's essential to know how to test your hot tub water and troubleshoot when challenges arise.
You can find your basic hot tub supplies for water testing online or in-store from Seaway Pools & Hot Tubs. To help you prepare for hot tub water testing, we've put together a cheat sheet to help you overcome common testing challenges.
Testing Tools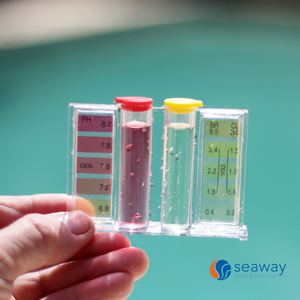 Water testing is a lot easier with advanced hot tub supplies. At Seaway Pools & Hot Tubs, we supply smart water testers that automatically read chemical levels in your water and report that data back to your phones or laptop. This data can also be sent directly to your hot tub service company, all in real-time.
It's also a good idea to have testing strips on hand that can be used manually when you need a quick read against a single parameter or all-in-one strips that evaluate your water chemistry against multiple important parameters in one go.
Ignoring Signs Water Needs Attention
There are many signs that hot tub water needs attention. Some are obvious, while others are more subtle. If these indicators are ignored or not taken seriously, bacteria will grow in your hot tub, turning a leisurely space into a health risk for occupants. Pay attention to musty odours coming from your hot tub, and look out for green, murky, or cloudy water. To preserve the water in your hot tub for as long as possible, be sure to remove sporadic debris drifting through the tub.
Overcorrecting With Chemicals
The solution to an imbalanced hot tub pH is chemicals. However, some hot tub owners may accidentally add too much of a chemical when treating water on their own, creating a new problem. This can happen with sanitizers (chlorine or bromine), which in excess can cause skin irritation, red or itchy eyes, and, in severe cases, lung or breathing problems. To combat this problem, you can call a maintenance company offering a hot tub service before ever entering the hot tub. Chemically eliminating the sanitizers can be time-consuming and costly. An easy way to offset this problem is by waiting it out and removing your hot tub cover to enable evaporation. You can also add more water to dilute the over-concentrated solution.
High Alkalinity
High alkalinity is typically less urgent than low alkalinity but requires quick attention nonetheless. There can be a few common causes for low alkalinity, mainly the hot tub hardware. It's a good idea to evaluate the condition of your hot tub filters. If you notice your pump is not effectively circulating water, then your filters are likely clogged, resulting in the scaling and high alkalinity of your hot tub. You can find replacements from Seaway Pools & Hot Tubs.
Water Testing at Seaway Pools & Hot Tubs
If you need help reading your pool or hot tub water, the team at Seaway Pools & Hot Tubs is happy to help. We offer complimentary virtual and in-store water testing at our Newmarket and Markham locations. We will help you troubleshoot your water needs and point you to the right hot tub supplies.
Call or send us a message online to learn more about our hot tub services in the Greater Toronto Area.