How to Maximize Relaxation With Hot Tub Accessories
After a long day, soaking in your hot tub is luxurious and relaxing. Massaging jets, warm water, and peace and quiet is what many of us need at the end of the day. However, your hot tub soak can be elevated. For the perfect at-home spa experience, you'll want to invest in high-quality hot tub accessories that allow you to relax and remain calm. From calming lights, aromatherapy scents, to ambient music, tranquility is possible with a few accessories from hot tub stores in Toronto.
Here's a guide on maximizing relaxation with hot tub accessories at Seaway Pools & Hot Tubs.
Incorporate a Gazebo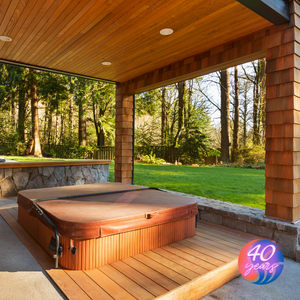 If you want added privacy for your hot tub, consider purchasing a gazebo. With a gazebo over your hot tub, you don't need to worry about any rain, snow, or sleet — you're able to relax in peace without any concern for the weather. Custom-designed gazebos and pergolas from hot tubs stores in Toronto, like Seaway Pools & Hot Tubs, come in many shapes, colours, and designs, so you're able to completely customize your gazebo to fit your backyard and aesthetic. To add even more privacy and exclusivity, add some curtains to your gazebo.
Exterior Lighting
To avoid lounging in the dark, try some stylish exterior lighting. Next time you go out to your hot tub, turn off these bright lights and use fairy lights or solar lights around your hot tub. Fairy lights draped around your backyard increase luxury and comfort. For some inspiration as to what you can do, visit Seaway Pools & Hot Tubs online store.
Stereo System
While some people may want their hot tub experience to be quiet, others prefer to have ambient and relaxing music. Customize your hot tub by adding Bluetooth speakers, so you have the ability to play your music and still hear it over the rumbling and massaging jets.
Aromatherapy Scents
Aromatherapy for hot tubs is an excellent way to boost relaxation during your hot tub time. Aromatherapy is one of the top hot tub accessories, and for a good reason. Adding aromatherapy to your hot tub before a soak increases relaxation, enhances sleep quality, helps reduce stress, and aids in mental wellness. Different scents have different benefits; peppermint helps with alertness, eucalyptus helps with migraines and congestion, and lavender reduces stress.
Hot Tub Cover
You want to be able to jump into your hot tub for a deep soak whenever you want, so you want to ensure that the water is at a consistent and hot temperature. Investing in a premium and well-fitting hot tub cover from a trusted hot tub store will help you achieve that. Hot tub covers keep the water hot and the debris out, so you can get into your hot tub on a whim without worrying about heat or cleaning out excess debris.
Shop Hot Tub Accessories
This winter, relax outside in your hot tub with all the necessary hot tub accessories from your trusted hot tub store in Toronto. No matter how you relax, whether it be from music or aromatherapy, we have everything you need at Seaway Pools & Hot Tubs.