How to Keep Hot Tub Parts from Freezing
Cold December temperatures make for an ideal time of year to stay warm and cozy in a hot tub. But, with most days dropping below zero, it's more necessary than ever to take care of your hot tub parts and prevent them from freezing. By maintaining your hot tub in Toronto and having all the right hot tub accessories, you're able to use your hot tub seamlessly throughout the winter. If you're looking for help with your hot tub maintenance or just need some guidance, contact Seaway Pools & Hot Tubs to learn more about our hot tub services.
Keep reading to learn how to keep your hot tub parts from freezing.
Cover Your Hot Tub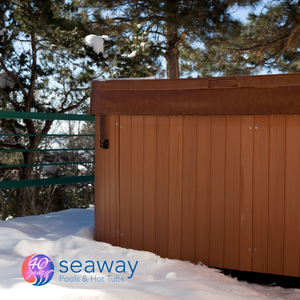 This winter, a premium, well-fitting cover is what you need to prevent your hot tub parts from freezing. Covers are an integral part of a clean, healthy, and energy-efficient hot tub. By investing in a high-quality hot tub cover, not only will the water stay at a consistent temperature and the water will stay free of debris, but also, it protects your hot tub from weather damage and freezing. By keeping your hot tub protected and the water warm, your hot tub won't freeze. If you want to go an extra step and keep the water even warmer, consider investing in a thermal blanket. A thermal blanket will ensure the water stays warm even with the cover lifted. If you want to upgrade your hot tub cover this winter to guarantee your hot tub in Toronto stays in top shape, visit Seaway Pools & Hot Tubs.
Don't Drain When It's Freezing
If you want to drain your hot tub, it's best to do it before temperatures drop below zero. It's essential for your hot tub parts to not drain the water when it's freezing out. Even after draining, water might still be lingering in the jets, filter bays, and pipes, causing the remaining water to freeze and damage your hot tub. A key to keeping your hot tub warm this winter is to keep the water moving and circulating.
How Freezing Can Affect Hot Tub Parts
Many areas of your hot tub can freeze, such as your pipes, filters, or even your shell. If your hot tub does freeze, it may result in pipe damage, cracking, filter damage, or cracks in the outside shell of your hot tub. If you suspect that your hot tub or hot tub parts have frozen, the best course of action is to contact a professional for an inspection. At Seaway Pools & Hot Tubs, our specialists will thoroughly assess your hot tub to see the full scope of the damage. If parts of your hot tub need replacing or maintenance, it can all be done easily with Seaway Pools & Hot Tubs.
Shop Replacement Parts and Book Services
This winter, keep your hot tub from freezing by maintaining a high water temperature, investing in a premium hot tub cover and thermal blanket, and refrain from draining it. If your hot tub does become frozen, shop replacement parts and book maintenance services with Seaway Pools & Hot Tubs.