How to Exercise in Your Beachcomber Hot Tub
Beachcomber hot tubs are the pinnacle of relaxation and are an incredible way to de-stress after a hard day. Aside from being a luxurious comfort, they're also an excellent choice for your health. It's well known that hot tubs can help with stress and sleep, but they're also fantastic for exercising. Working out in your hot tub is a low-impact way to get effective results, and you can stretch and relax in all the same place. At Seaway Pools and Hot Tubs, your local hot tub store, we can help you find the perfect beachcomber hot tub for your at-home workouts.
Here are all the ways you can benefit from hot tub exercises.
Benefits of Water Aerobics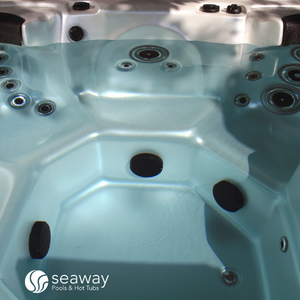 While water aerobics is relatively new to the mainstream fitness industry, it poses many benefits for people of all ages. Water aerobics are a low-impact way to help improve mobility, balance, and cardiovascular health. Working out using a hot tub in Toronto is particularly popular among those with joint pain, and people with injuries who want to build muscle without strain. Not only is working out in the water effective, but it's also fun; water aerobics is a great way to shake up your workout routine, build muscle, and improve your range of motion.
Resistance Training
A backyard hot tub takes away the need to invest in resistance bands — the jets and constant water flow provide enough resistance to make a workout effective. Resistance training in your hot tub can help balance and provide a full-body exercise in a few swift movements. Your local hot tub store can help you choose the best hot tub for your needs, but when it comes to resistance training, all you really need is a place to stand and a place to sit. If you're unsure how to begin this type of workout, there are a few key exercises that work your whole body: standing leg lifts, bicycle kicks, or an underwater chest press. All of these exercises help with balance while targeting all of your muscles.
Weight Training
If resistance training in your hot tub didn't make you sweat, using weights definitely will. If you're aiming towards a more traditional workout in your hot tub, you can use dumbbells for bicep curls, lateral raises, or even squats — just make sure not to squat too low. The combination of buoyancy and weights will make your workout challenging and ease the strain on your muscles at the same time. While the hot tub is a fun place to workout, it's important to be careful and to remain hydrated at all times.
Stretching
Perhaps the best part of exercising in your hot tub is that you don't have to go anywhere for a cool down or stretch — you just have to sit down! You don't have to worry about tight muscles; hot tubs are an amazing way to soothe muscles and loosen everything up. From shoulder rolls, to hamstring and quad stretches, to the feel of the jets on your neck, shoulders, and back, you will feel relaxed and comfortable after your exercises.
Hot tubs in Toronto are multi-functional, you can use them for exercise, entertainment, relaxation or a combination of all three. Our team at Seaway Pools and Hot Tubs can help you pick out the right hot tub to optimize your workouts and relaxation.
Shop online or visit us at one of in-store locations to find your perfect hot tub today!