How to Clean Your Hot Tub
When you dip in your hot tub, you want to know that the water is clean and piping hot. To ensure your hot tub is sanitary, you should clean it every three months. Without regular cleaning and hot tub maintenance, your hot tub will have an excess of body oils and other debris, and the sanitizers may not be as effective as before. Thankfully, Seaway Pools & Hot Tubs, your trusted local hot tub store, has all the hot tub supplies you require to keep your hot tub clean and running all year.
Here's a guide on how you can keep your hot tub clean.
First Step: Drain Your Hot Tub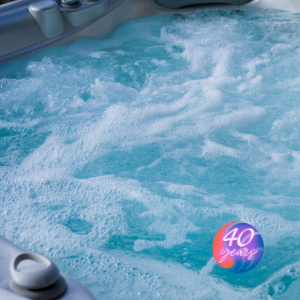 When cleaning your hot tub, the first order of business is to drain it. Every time you use your hot tub, more and more contaminants are introduced into the water. While it may just be you or a few others using your hot tub, that doesn't limit the number of pollutants. Contaminants that enter your hot tub from a simple, quick refresh range from body oils, lotions, cosmetics, hair products, or sweat. However, these contaminants don't just stay floating in the water — they also go through the filter and plumbing system. As a result, the water in your hot tub won't be as clean as it should be, and there will be pollutants lingering in the water. This is why draining your tub is a crucial first step to hot tub maintenacne.; you'll be able to clean and sanitize every inch of your hot tub and fill it with brand new, pristine water.
Second Step: Take Care of the Filters
Once your hot tub has finished draining, you'll need to clean or replace the filters. If your filters are dirty, you can soak them in a deep clean solution. After you finish the deep clean of your filter, be sure to thoroughly rinse it. If not, there may be an excess of cleaning solution in your hot tub, which may start foaming when you restart it. If this occurs, you'll have to drain it and start over. If you feel you need to replace them, you can buy brand new filters and other hot tub supplies from your local hot tub store.
Third Step: The Hot Tub Shell
If your hot tub is empty, you may as well give it a total surface clean. You can spray your hot tub shell with a diluted vinegar solution or diluted bleach solution. Use a soft cloth to get rid of any residue, and rinse all surfaces to keep your hot tub shell perfectly clean.
Fourth Step: Clean Your Hot Tub Cover
While you wait for your hot tub to refill, clean your hot tub cover. If you don't clean your hot tub cover, it's easy to become dirty again. Like your hot tub shell, you can use a diluted bleach or vinegar solution on your hot tub cover.
Final Step: Visit Seaway Pools & Hot Tubs
Seaway Pools & Hot Tubs has all you need to keep your hot tub in sparkling condition. To make things easy, you can buy all your cleaning supplies in one swift purchase or choose from a wide variety of products from our online store.