How Hot Tubs Help Maintain Your 2023 New Years Resolutions
With exceptional hot tub sales at Seaway Pools & Hot Tubs, there are plenty of reasons to bring home your own hot tub. Not only is a hot tub an excellent way to relax, but it can also help you stick to your new year's resolution. With high-quality hot tub supplies, you'll be able to make the most out of your hot tub and turn 2023 into your best year yet. To enhance your hot tub experience, shop hot tub sales and hot tub supplies online at Seaway Pools & Hot Tubs.
Here are some resolutions you're able to achieve with Seaway Pools & Hot Tubs.
Read More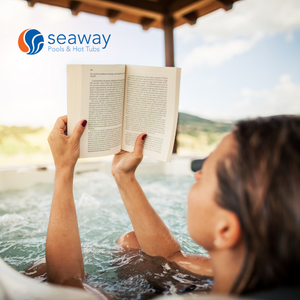 To truly immerse yourself in a book, you may need a comfortable and quiet space to do so. Sometimes reading on the couch or in bed doesn't seem like the right spot, so you might want to explore other options. A hot tub is a perfect spot to truly relax and dive into a good book. The massaging jets, the quiet atmosphere, and the warm water create the ideal environment for reading. So, if reading a book a week is a new year's resolution, a hot tub is the best place to do so.
Improve Sleep
It's proven that taking a short dip in your hot tub about an hour before you go to bed will help improve your sleep quality. The jets and hot water increase blood flow, reduce joint and muscle pain, and let you fully relax before going to sleep. To improve your sleep quality even more, visit Seaway Pools & Hot Tubs for hot tub supplies, like aromatherapy for hot tubs. Aromatherapy for hot tubs, such as lavender essential oils, help put your mind at ease and allow for a restful slumber.
Enhance Self-Care
Everyone has a different approach to self-care, whether it be having a night to yourself, going shopping, or, in some cases, relaxing in a hot tub. Hot tubs are the perfect way to enhance self-care in the new year. With a brand new hot tub from Seaway Pools & Hot Tubs' many hot tub sales, you could hop in every night and get rid of the stress from the day.
Exercise More
Developing an exercise regimen is at the top of most people's to-do lists in the new year. With a new hot tub, not only will you be able to sit and read, but you can also try some different exercises. Hot tubs provide water resistance, so doing light workouts in your hot tub, such as yoga, leg lifts, or dumbbell training, will burn calories while being easy on the muscles. Or, if you choose to exercise at a gym, you can always hop in your hot tub after your workout to soothe muscle and joint pain.
Spend More Time With People You Care About
Hot tubs help you live life to the fullest. They're not just about relaxing, but they're about socializing as well. This winter, invite some friends and family over for a hot tub party. With everyone busy in their day-to-day lives, hot tubs are a fantastic way to relax and spend time with the people you love.
Shop Hot Tub Sales
From hot tub sales to hot tub supplies and accessories, you can find all your must-haves online or in-store at Seaway Pools & Hot Tubs in Markham or Newmarket. Shop in-stock plug & play Fantom and Spartan hot tubs or explore luxury Beachcomber hot tubs.
This year, get closer to your new year's resolutions with Seaway Pools & Hot Tubs.