Are Hot Tub Companies Servicing During The Pandemic
A hot tub leak or other significant hot tub damage can be an expensive and stressful situation. Thankfully, Seaway Pools & Hot Tubs has remained open as an essential service to continue safely repairing hot tubs throughout the pandemic. If you need a hot tub repair, the Seaway team can safely provide repair services while following all the necessary public health guidelines. Our online hot tub supplies store also offers curbside pick-up to help you keep your hot tub safe and clean during the ongoing lockdown.
What To Do If You Need A Repair?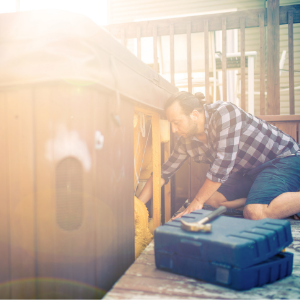 If you notice your hot tub is leaking or is not functioning, it may be time for a hot tub repair. To seek repair services, start by contacting the Seaway Pools & Hot Tubs team. To book your repair service, you can fill out the online service request form or contact one of our store locations in Markham (905-294-8030) or Newmarket (905-853-8500). Our team will then be able to book a repair service for your hot tub. When our technician comes to your home, they will wear a mask and follow social distancing guidelines during the service. If you have any concerns about your service, we are happy to answer any of your questions before the hot tub repair appointment.
Changes To Our Service Model
The Seaway Pools & Hot Tubs team is closely following local health officials' guidelines and adjusting our services accordingly. All our technicians are adhering to the guidelines outlined for essential services in Ontario during the pandemic. In addition to wearing masks and practicing appropriate personal hygiene, our technicians will follow all social distancing guidelines during your hot tub repair. We also offer curbside pick-up for any hot tub supplies you may need for regular hot tub maintenance.
Our Guarantees
The health and safety of our customers and employees are always our top priority. During a hot tub repair, our technicians guarantee the safety of you and your family. Following our repair services, you will be able to continue to safely use your hot tub, a great way to relax and unwind during the ongoing pandemic. You can discuss the entire service process with our technician team before your hot tub repair to ensure that you are comfortable moving forward with the appointment.
At Seaway Pools & Hot Tubs, we are an essential service that offers hot tub repair during the ongoing COVID-19 pandemic. If you require a repair, simply fill out our service request form on our website or contact the Seaway team in Markham (905-294-8030) or Newmarket (905-853-8500). Our online pool supplies store sells all the hot tub supplies you need for regular hot tub maintenance. We also offer free water quality testing, including virtual water tests, to determine what chemicals and supplies you need to balance your hot tub water chemistry. Our top priority is your health and safety during this pandemic. Please do not hesitate to contact our team with any concerns regarding your pool and spa maintenance during this difficult time.