4 Tips For Using Your Hot Tub In Toronto During Winter
Without a doubt, hot tubs are a great way to unwind and relax after a busy day, and with the proper hot tub supplies, your beachcomber hot tub can be used all year — even in the winter. While using your hot tub in those frigid Toronto winters is a bit different than in the summer, immersing yourself in hot water is a fantastic way to combat the cold and relax. Here at Seaway Pools and Hot Tubs, we can help you with hot tub service and hot tub supplies to optimize your hot tub this winter in the Greater Toronto Area.
If you want to avoid the cold this winter with your spa, continue reading to learn about how you can get the most out of your hot tub this winter.
Invest in a Good Cover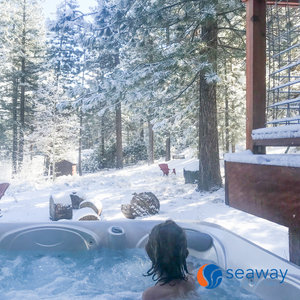 To keep the cold winter winds out of your hot tub, it's essential that you invest in a high-quality cover for your hot tub. A good cover will keep the temperature consistently high, making your hot tub more energy efficient and ready to use at all times. A winter cover is a worthwhile investment that will protect your hot tub for years to come. If you want to upgrade your hot tub cover, visit Seaway Pools and Hot Tubs in store or online for covers and other hot tub supplies you may need.
Be Aware of Water Levels and Jets
It's likely you're focused on relaxation when thinking about your hot tub in Toronto, but it's a good idea to keep an eye on the water level. Some components may freeze and damage your tub if the water gets too low during the frigid winter months. If your water level does lower, contact Seaway Pools & Hot Tubs for hot tub services, and we can guide you in the right direction.
In addition to water levels, it's also a good idea to turn down the jets. Of course, the massaging power of the high-powered jets is absolutely incredible, but unfortunately, the higher the intensity of the jet, the lower your water temperature may get. Essentially, jets work by blowing air into the water, and ultimately decreasing the water temperature, making your hot winter hot tub experience a little less enjoyable. To enjoy the 38ºC (102ºF) water in the winter and warm up, keep the jets to low intensity.
Protect Yourself From The Cold
Going from a hot temperature to cold — even if it's just in transit from your hot tub to home — can be dangerous, especially if you're soaking wet and in minimal clothing. Keep a warm bathrobe and shoes beside your spa to protect yourself from the cold and extreme weather fluctuations. This way, when you're finished with your hot tub session for the day, you can comfortably slip into your robe and shoes and stroll inside.
Transform Your Outdoor Space
Your backyard and hot tub are an oasis in the summer, so it only makes sense to do it in the winter. Spruce up your outdoor area with accessories, fairy lights, heating lamps, or even an all-weather outdoor rug to make your backyard a haven for relaxation. Your hot tub is already the pinnacle of comfort, so why not upgrade your entire space into a cozy winter wonderland. You can shop winter backyard accessories and hot tub supplies right from our online store.
At Seaway Pools & Hot Tubs, we have everything you need for using your hot tub in the winter, from supplies, accessories, and hot tub services.