4 Cant miss Fall Hot Tub Maintenance Steps
With the Fall in full swing in Toronto, hot tub owners should start preparing for the dropping temperatures and seasonal changes. Towards the end of September, the weather begins to fluctuate, indicating that you should check in on your hot tub a little more than your regularly scheduled maintenance. Whether you do it yourself or call a professional, hot tub service is a good idea this time of year. You can find all the necessary hot tub supplies online from Seaway Pools & Hot Tubs or contact one of our experts for help.
Here are 4 Maintenance Tips for Your Hot Tub this Fall.
Get a Cover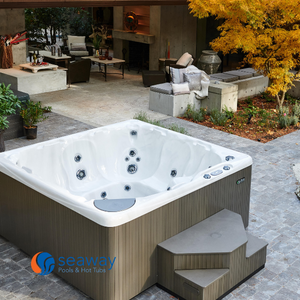 If this is your first season with a backyard hot tub, you should make sure you purchase a cover. You can find hot tub supplies like covers online or in-store from your local pool contractors. A cover protects hot tub water from outdoor debris like falling leaves, fruit, or animal waste from entering your hot tub water, preserving the water chemistry. When organic material is kept out of your hot tub, you'll need to rely less on professional hot tub service providers to rebalance your water. However, without one, your hot tub will become contaminated more frequently, requiring more chemicals and more of your time.
Drain Your Tub
Hot tub service providers recommend that you drain and refill your hot tub relatively regularly, approximately every 3-4 months. This depends on how many people use your hot tub and frequently it is used. Over time pool and hot tub sanitizers like chlorine and bromine become less effective. Draining your hot tub then refilling it maximizes the effectiveness of your hot tub supplies, water treatment chemicals, and filtration system.
Flush Plumbing Lines
Before starting to drain your hot tub, it's a good idea to flush your plumbing lines to remove any backed-up organic material, bacteria, or biofilm that can interfere with the performance of your hot tub over time. Using a pipe flushing solution or cleaner, you can wash the bacteria out of your hot tub before refilling it. If you're not sure how to proceed with flushing your plumbing lines, don't stress, call a local hot tub service provider for help.
Unclog Filters
Filters play a significant role in keeping your hot tub water clean and free of contaminants. If you notice cloudy, discolored water, that can indicate a problem with your hot tub filters. In the Fall, there is more debris entering your pool, such as leaves and falling fruit. As these get sucked up into the filters, they can clog them, stopping water from being cleansed regularly. If you notice a crack when clearing out your hot tub, you should replace them promptly before your next use. View our filter replacement online, or visit Seaway Pools & Hot Tubs in store to keep your hot tub up and running.
For all your hot tub and swimming pools supplies, shop our online selection. Get a virtual hot tub water test or bring a sample in-store, and we'll help you treat your hot tub appropriately.