Yes, There is Such a Thing as an Energy Efficient Hot Tub
Throughout the industry, the Beachcomber hot tub is amongst the most energy efficient hot tubs on the market. At every water volume tested, Beachcomber tubs were using up to one third less energy than competitive hot tubs. In fact, Beachcomber engineers are continuously making improvements to maximize energy efficiency, and consequently lower operating costs.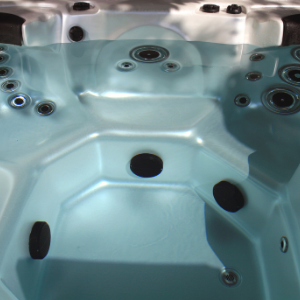 For those who are energy conscious – there is such a thing as an energy efficient hot tub. Buying a Beachcomber hot tub means owning a hot tub that's built with insulation barrierson all sides – in other words, preventing heat loss in every part of the tub. As well, the Heatshield Cover prevents heat loss from the water surface. Every effort is made to stop unnecessary energy loss.
Beachcomber has an established reputation as an energy efficient hot tub. High performance foam insulation protects every surface that comes in contact with hot water. With a Beachcomber Hot Tub, consumers benefit from the "thermos" construction that's built to be reliable for many years. More than that, all of the energy efficient properties of the hot tub are sustained long term.
Does Beachcomber have the most energy efficient hot tub?
Based on California Energy Commission Energy Efficiency standards, Beachcomber models were compared with competitor models, beating similar water volume hot tubs by up to one third!
Figuring out how much it will cost to operate the hot tub
Operating costs vary with hot tub usage, outside temperature, and hot tub water temperature. Based on regulated data, and viable hot tub comparisons, Beachcomber energy costs were lower.
The advantages and benefits of superior hot tub insulation
Hot tub insulation is just as important as home insulation. Beachcomber hot tubs are completely insulated with expanding foam. Every little crevice of the hot tub cavity is insulated to the max.
There are some misconceptions about air cavity insulation
There is a misconception that the air cavity between the hot tub shell and the cabinetry is better insulation than foam. This is only partly true – nothing insulates better than an airtight cavity.
What really makes Beachcomber an energy efficient hot tub?
With Beachcomber Hot Tubs, the engineering focus is about optimizing energy efficiency – from the motor, to the heating technology, to the LED lights, to the energy saving cover. Technically, the system is designed to effectively recycle heated water, while efficiently conserving heat. For the consumer, it all adds up to more efficient energy usage and less energy consumption.
In Ontario, Beachcomber Hot Tubs are available through Seaway Pools & Hot Tubs, the industry leader when it comes to hot tubs. As the most energy efficient hot tub on the market today, Beachcomber offers a satisfaction guarantee, without any fine print conditions. To find out more, call Seaway directly at 905-294-8030, or visit the website at www.seawaypoolsntubs.com.
Better still, visit one of the showrooms (in Markham or Newmarket) and try out a Beachcomber hot tub yourself – just bring a bathing suit and towel.