Why You Need a Safety Cover
The glistening water of a pool is often the allure of the summer season; however, pool safety and maintenance cannot be overlooked. During all months, but especially during the winter, ensuring you have a pool cover is crucial to protect your pool water and provide security. Make your life a whole lot easier with Seaway Pools & Hot Tubs. We have a full range of pool supplies, so you are ready for pool opening, closing, and everything in between. Shop pool supplies online with Seaway Pools & Hot Tubs, or visit one of our two in-store locations for pool accessories to hot tubs and more!
Learn more about the importance of a pool safety cover below.
Access Control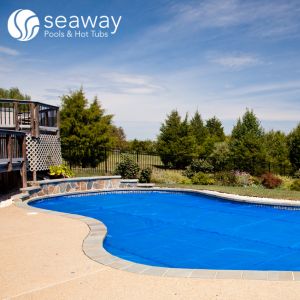 When you have little ones and four-legged friends running around, you must take extra precautions when letting them in the backyard. Remove the risk of injury or falling into the pool with a safety cover when not in use. As durable as the safety cover is, it can hold a person's weight, making it safe when pets or children run on it. Though there should always be supervision with kids around a pool, there is less worry when a safety cover is installed.
Durability
Safety covers are your best option because there are different types of pool covers. There are such things as winter covers for your pool; however, safety covers have the same functionalities as them with additional benefits. Safety covers are more durable, supporting a person's weight, on top of keeping the pool water clean for a more manageable pool opening in the following summer months.
Maintains the Quality of the Pool
During winter, you must cover your pool to keep the quality of your pool. Protecting it eliminates the hassle of doing a complete drain and rewatering your pool when it's time to open it again. This also lengthens the lifespan of your pool and the other equipment used to keep your pool up and running. A safety cover protects your pool's lining from wear and tear throughout the winter months. Lastly, it reduces the attendance of debris in the pool that will eventually need to be cleaned out. Overall, having a pool safety cover can make your life easier regarding pool maintenance. Shop pool supplies online with Seaway Pools & Hot Tubs.
Tips for Closing Your Pool for the Summer
Though pool covers can be used throughout the summer, they are most commonly used when closing a pool for the winter. Follow these simple steps to ensure a successful pool closing:
Balance your water: ensure the chemistry levels of your pool are correct to avoid the headache when it comes time to reopen your pool.
Shocking treatment: shocking your pool ensures that the chlorine levels are adequate.
Remove pool equipment and accessories: remove cleaners, vacuums, ladders, handrails and other pool supplies.
Lower water level: lower your water levels about 4-6 inches to below the plumbing line
Drain the equipment: drain the chlorinator, heater, pool pump and filter of any excess water.
Pool Closing with Seaway Pools & Hot Tubs
If you seek pool closing services or maintenance services, contact Seaway Pools & Hot Tubs. From services to pool accessories, we have what you need regarding your backyard swimming pools and hot tub. For over 40 years of service, we have provided homeowners all over Southern Ontario with a fantastic backyard experience. Shop online or visit our showrooms in Newmarket or Markham.