Why Shop Hot Tubs in Toronto During the Fall?
The fall can be a sad time for pool lovers. People who love spending downtime in the water going for a swim must begin to close their pools for the season. But with hot tub in Toronto and the surrounding area on sale and in-stock, you can schedule your pool closing services with a smile. Keep the bone-chilling cold of winter at bay!
Get ready for colder weather with a luxury plug and play hot tub sales from Seaway Pools & Hot Tubs and maximize your backyard fun all year long. Shop our hot tub store for supplies and accessories online or in-person at one of our two GTA showrooms to transform your home into a winter oasis.
Read on to learn why Fall is a great time to shop hot tubs in Toronto and across Southern Ontario.
End-of-Year Hot Tub Sales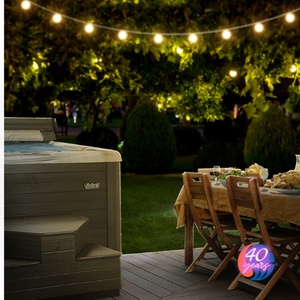 Pool closing season is quite far from Christmas, meaning there is lots of time to budget and finance for a hot tub. We know a hot tub is a significant purchase, but with Black Friday around the corner and end of season hot tub sales, there are opportunities to find a high-quality tub you love for less. Shop our hot tub sales at Seaway Pools & Hot Tubs for the best deals. We would be happy to help you with different payment options available on your journey to hot tub bliss.
Achy Bones and Muscles
It's not a secret that aging bones and muscles get sore with everyday use. Keep this in check with frequent hot tub use in the late fall, winter, and spring. Feel the soreness melt away as you enjoy the daily use of your hot tub. No achy bones or muscles– a worthy goal for the chillier months. The many health benefits of hot tubbing are hard to ignore, from helping with achy bones and muscles to improving sleep quality, massage properties, and so much more.
Hot Tubs are Easy to Run in the Winter
Most swimming pools have to be closed by the time the temperature drops, but hot tubs in Toronto are year round, providing a fun way to stay warm during the winter while also getting outside for fresh air. With proper hot tub maintenance, care, and supplies, especially with a hot tub cover, you can keep your tub in good shape throughout the season. For hot tub service, contact the Seaway Pools & Hot Tubs team.
Shop Hot Tub Sales at Seaway Pools & Hot Tubs
The time to act is now– reach out to Seaway Pools & Hot Tubs today to get started on your way to warmth and bliss in a new hot tub. Trouble getting started or choosing the right tub for you? Our experts eagerly await your questions and are ready to answer any queries. Combat that nagging sad feeling of closing your pool by opening your very own hot tub.
Do not hesitate– reach out today to learn more about Seaway hot tubs in Toronto and let our experts put any doubts to bed. You'll be enjoying a warm winter oasis in your own backyard in no time at all. Keep cool in the summer, and stay warm all winter, with your new hot tub.
Want to Learn About Our Hot Tub Deals?