Why Repair Your Pool Liner in Autumn?
Pool closing season is creeping up for swimming pool lovers across the city. Although it may seem like a good time to cover it up for the year and simply forget about it, autumn is actually the perfect time to upgrade your pool liner. Before closing off your backyard swimming pool during the last few weeks of summer, you can choose to replace your liner this fall season.
While you get your pool liner replaced, it's also a good idea to schedule professional pool cleaning services. You can also take inventory of supplies you have; if you need pool supplies in Toronto, visit Seaway Pools & Hot Tubs.
Keep reading to learn why autumn is the best time to replace your pool liner.
Cooler Temperatures Make Liner Replacement Easier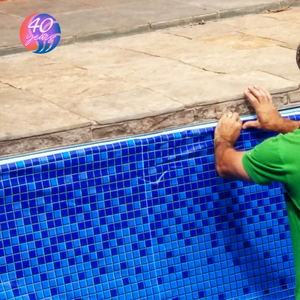 Changing your pool liner during the autumn season presents many benefits, but the most advantageous one is that the temperatures are ideal. There's no risk of scorching summer temperatures and no chance of cold winter snow.
As the weather cools down, your swimming pool will be used less frequently, so scheduling liner repair is less likely to interfere with your backyard fun or relaxation. If you're interested in upgrading your pool liner and the different options available, visit Seaway Pools & Hot Tubs, your trusted store for pool supplies in Toronto. The Seaway Pools & Hot Tubs team will help you replace or repair a damaged swimming pool liner so you can start the next swimming pool season on the right foot.
Less Risk of Groundwater Problems
If you choose to upgrade your liner in the spring, there is a greater risk of running into groundwater problems. Water runoff from the winter is often high, increasing the possibility of any complications. During the autumn, on the other hand, the ground is usually drier, and you're less likely to run into any trouble during the liner replacement.
Streamline Pool Closing & Maintenance
If you choose to upgrade your liner throughout autumn, you can efficiently complete two important swimming pool tasks at once: pool cleaning services and liner replacement. At Seaway Pools & Hot Tubs, our experienced technicians will effectively clean and close your pool for the winter months, ensuring that it won't face any damage. Winterizing your pool with a professional service, especially with harsh Canadian winters, is the best way to guarantee that your pool is able to withstand the cold conditions. With the professional Seaway Pools & Hot Tubs team onsite, you'll have peace of mind knowing that your pool will be in top shape.
While you may not think your pool liner is in need of replacement, the specialists at Seaway Pools & Hot Tubs will be able to quickly identify any issues, like sagging, wrinkles, or tears. When we replace your pool liner, we guarantee it will be perfectly fitted.
Choose Seaway Pools & Hot Tubs for Pool Maintenance
Prepare for next summer by getting your pool liner upgraded this fall. Don't waste time in the summer while you could be swimming, floating, playing, or relaxing — get the work done in the months ahead when you'll be using your hot tub instead.
Contact Seaway Pools & Hot Tubs for more information today.