Why Perform Pool Repairs in the Fall
When it comes to maintaining your beautiful backyard oasis, it's crucial to stay on top of pool repairs and maintenance year-round. As the leaves begin to change and the temperature drops, fall presents an excellent opportunity to address any issues that may have arisen during the summer season with the help of trusted pool builders. For expert pool repairs and upgrades, trust Seaway Pools & Hot Tubs, an award-winning pool design and pool installation company with over four decades of experience. Book your pool repairs or shop our pool supplies online to get your swimming pool back to health.
Read on to learn why the Fall is a great time for pool repairs.
Temperature and Weather Conditions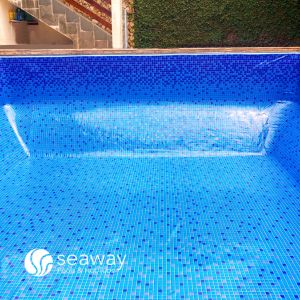 One of the primary reasons to tackle pool repairs in the fall is the milder weather conditions. As summer transitions to autumn, the scorching heat and intense sunlight gradually subside. This more moderate climate is perfect for completing repair work without the discomfort of extreme heat or excessive humidity. Pool builders and pool installation companies recommend taking advantage of this window of opportunity to ensure your pool is in top-notch condition for the next swim season.
Preventing Winter Damage
Neglecting necessary pool repairs during the fall can lead to significant issues when winter arrives. The freezing temperatures, ice, and snow can exacerbate existing problems, causing more extensive and costly damage. By addressing repairs promptly in the fall, you protect your pool from the harsh winter elements and extend its lifespan. At Seaway Pools & Hot Tubs, we offer pool closing services so you can winterize your pool with an expert touch.
Availability of Pool Supplies Online
Fall is an excellent time to order pool supplies online. As pool owners prepare to close their pools for the winter, many retailers offer discounts and promotions on essential maintenance and repair products. Take advantage of these deals to stock up on supplies, including pool filters, chemicals, and replacement parts, ensuring you have everything you need for fall repairs and winter pool care. Shop pool supplies online or in-store at one of our two full-stocked GTA showroom locations.
Avoid the Spring Rush
As the weather warms up, pool builders and pool installation companies experience a surge in service requests, leading to longer wait times and potentially higher prices. By scheduling your repairs in the fall, you can avoid the rush and secure prompt, cost-effective services.
Ensuring a Smooth Opening Next Season
Performing pool repairs in the fall sets the stage for a hassle-free pool opening in the spring. By addressing any issues now, you can rest assured that your pool will be in excellent condition when the temperatures rise again. This means less stress and more time to enjoy your pool during the warmer months.
Keep Your Pool Healthy with Seaway Pools & Hot Tubs
Maintenance and repairs are inevitable when it comes to backyard swimming pools. But, with the right team on your side you can keep your pool running smoothly all season long. Don't wait. Schedule your fall pool repairs and maintenance today to protect your investment and enjoy a stress-free swimming season next year.