Why Install a Salt System for Your Backyard Swimming Pool
Backyard swimming pools in Toronto and Southern Ontario are a great addition to your home as it provides relaxation and a place to enjoy during the summer months. With all those benefits come a significant responsibility for pool maintenance. Chlorine-filled pools come with balancing pH and chlorine levels, which can be a hassle. An alternative is switching to a salt system for your backyard pool. Seaway Pools & Hot Tubs is a leading pool installation company with showrooms in Newmarket and Markham offering high-quality and innovative pool equipment and accessories. Whether you visit or shop for pool supplies online, get the most out of your pool.
What is a Saltwater Swimming Pool?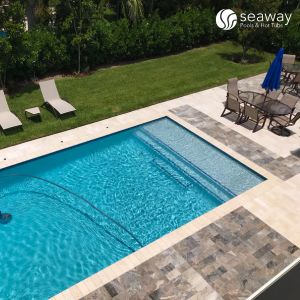 In a saltwater system pool, you aren't actually sitting in salt water; you aren't left with a salty residue, nor do you taste the salt when swimming. Salt is put into the filter system and turns into chlorine water. Instead of depositing chemicals into your pool, the salt transforms into that chlorine, creating safer water to enjoy.
Explore the benefits of saltwater systems for your backyard pool.
Gentler on the Body
Chlorine can dry out the body, which is not ideal. After having fun in a chlorine-filled pool, your eyes may be irritated and red, and your skin may feel tight. With salt systems for your pool, the water released into the pool is much more gentle since the level of chlorine is reduced. It's found that the minerals in salt water can help balance the body's oil production and support the skin barrier to retain moisture. It also can open your pores and release impurities.
Less Costly to Maintain
The maintenance of saltwater systems is far less expensive than chlorine pools. For one, salt is cheaper than chlorine as it is easily accessible. Salt water systems require fewer water tests to balance ph levels and chemical adjustments. Though the salt system can be pricier, the health benefits and overall quality of the water are worth the pretty penny. Shop pool supplies online with Seaway Pools & Hot Tubs, Ontario's leading pool installation company.
Better for the Environment
Not only are saltwater systems beneficial to your health, but they contribute to a greener environment. With chlorine pools, when the water evaporates, it releases chemicals into the air that are used to keep the pool water clean. As for saltwater pools, though chlorine is still present, there are far fewer chemicals that are harmless to the environment, so when it evaporates, there is no adverse effect.
Lastly, saltwater pools don't require storing dangerous amounts of chlorine around the backyard for the risk of children or dogs getting into it, causing severe health issues. Pool installation companies typically suggest saltwater systems to lead a safer lifestyle.
Better Living with Seaway Pools & Hot Tubs
Seaway Pools & Hot Tubs is a one-stop shop for all things pools and hot tubs. We have what you need, whether you are looking for maintenance services or pool accessories. Come visit one of our showrooms or contact us today to get started on creating your dream backyard.