Why Consider Using Salt Water for Your Pool
After a lovely Caribbean vacation, we often find ourselves returning home wishing we could bring back a bit of our holiday. This feeling can lead homeowners to seek the saltwater comforts of an island retreat for their own homes in the form of a backyard swimming pool. Despite the desire to build a personal oasis at home, many homeowners question whether they can actually fit a full-sized saltwater swimming pool on their property. But with a custom plunge pool you can access all the beauty and functionality of a traditional saltwater swimming pool in a smaller space. Our team of award-winning pool builders in Toronto at Seaway Pools & Hot Tubs will transform your backyard, so your dream vacation is always right at your door.
To learn more about the benefits of a saltwater swimming pool, read on.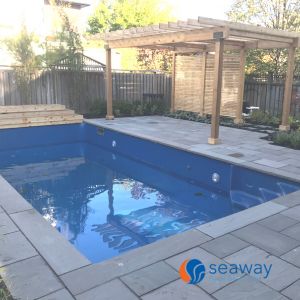 The Water Feels Softer
Saltwater is often sought after as it feels quite silky and gentle on the skin. Saltwater pools allow homeowners to bask in a swimming pool after work or on the weekend and immerse in a truly relaxing experience. Saltwater pools can also offer the same benefits as Epsom salt bombs we use in our baths, which help relieve achy muscles and joints. You can find saltwater pools at luxurious hotels, resorts and spas. With the pool builders in Toronto at Seaway Pools & Hot Tubs you can build a beautiful backyard plunge pool reminiscent of those cherished pas experiences at home.
Gentle on Clothes, Skin & Eyes
Most popularly chlorine is used for pool water sanitization but it can trigger allergies and harsh reactions. So, those with sensitive skin may seek out salt water swimming pools as it is often gentler on clothing, skin and eyes. The salt found in saltwater pools is not at a concentration where it can be tasted in the pool water and does not leave residue on clothing. It does not give off any smell of bleach or that traditional chlorine smell, and people find it overall a healthier option.
Minimize Pool Maintenance
A key attribute of saltwater pools that homeowners enjoy is that they are easier to maintain since they don't use chlorine. That means you don't need to buy chlorine; store it and add chlorine, as your salt chlorine generator will do all of the work. You may also be able more easily navigate chlorine shortages that may occur in the future. Seaway Pools & Hot Tubs is proud to offer the Hayward AquaRite Salt Chlorination System, considered the best system in the world.
Design Your Saltwater Backyard Plunge Pool
Don't let your property size deter you from exploring your options for installing a swimming pool at your home. Our plunge pools are an excellent option for those with smaller backyard sizes. At Seaway Pools & Hot Tubs, we offer a variety of designs and sizes to suit your needs, budget and property.
As Southern Ontario's leaders of plunge pool design, you can count on the award-winning pool builders at Seaway Pools & Hot Tubs to transform your space into the ideal oasis.
Start Designing Your Backyard Pool