Why Choose a Vinyl Liner for Your Pool Installation
There is a lot of excitement associated with a brand-new pool installation on your property. Homeowners have the opportunity to select pool shape, design, and pool liner. When considering pool liners, vinyl liners are a popular choice for swimming pools as they provide homeowners with an array of benefits. A custom backyard swimming pool enhances your property and lifestyle, but you want to make the right decisions and choices to protect your investment. Seaway Pools & Hot Tubs are highly trusted professional pool contractors in Southern Ontario who can help you select the best pool liners and materials for your home.
Read on to learn why you should choose a vinyl liner for your pool installation.
Low Maintenance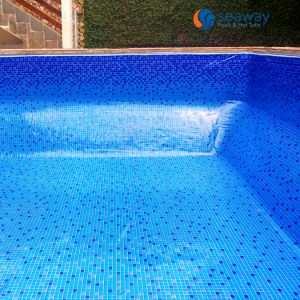 When homeowners seek to elevate their lifestyles with a new swimming pool, they generally don't want it to come with increased work and maintenance. Vinyl pool liners are an excellent choice for homeowners seeking a low-maintenance lifestyle. Their non-porous, smooth surface is easy to clean with a simple brush or wipe, making it less habitable for algae and requiring less chemicals for swimming pool maintenance.
Cost-Effective Pool Installation
Vinyl pool liners are an excellent choice for your pool installation as they are a cost-effective option and cheap to repair. Your vinyl pool liner will last 10 to 20 years with proper seasonal maintenance. They are also often accompanied by excellent warranties. Choosing a vinyl pool liner from a well-known brand is advisable; this ensures performance, and there is a product guarantee. At Seaway Pools & Hot Tubs, our professional pool contractors will guide you to choose to suit your budget, needs, and taste.
Customizable Backyard Swimming Pools
An excellent feature of vinyl pool liners is that they are customizable according to our tastes and size specifications. Vinyl liners have unlimited design options, so you can choose the color and design of your choice or what you feel best suits the rest of your landscaping. When you change your liner, you can select a new design or fresh color that might suit your tastes or if there are new style trends in the market.Vinyl liners also don't have depth or shape limitations, so they can be customized to the exact needs of your backyard swimming pool. At Seaway Pools & Hot Tubs, our award-winning team of swimming pool builders use high-quality, industry leading Latham pool liners for durable, eye-catching pool designs.
Signs You Need to Replace Your Vinyl Pool Liner
Do you already have a pool and want to know some tell-tale signs that your liner needs to be replaced. The good news is that there will be visible deterioration of your vinyl pool liner, indicating the need for replacement. If you begin to notice wrinkles in your liner, this is often caused by extreme temperatures, sunlight, or fluctuations in the water level. If the edges of your pool liner are sagging or you see a tear that is longer than 6 inches, it will need to be replaced.
Seaway Pools & Hot Tubs for All of Your Swimming Pool Needs
Seaway Pools & Hot Tubs are your premier provider of beautiful swimming pools and high-quality craftsmanship. After 40 years in the industry, we have become a trusted supplier of swimming pool supplies and leadng designers. A swimming pool enhances your life and property, so we want to ensure you have the best experience from the beginning to the final product.