Who Can Benefit from Custom Plunge Pools in Vaughan
As backyard space in the Greater Toronto Area becomes smaller, many homeowners are opting for plunge pools. Plunge pools are smaller in-ground swimming pools that allow homeowners to relax and cool off in the summer without compromising backyard space and functionality. Seaway Pools & Hot Tubs are the leading plunge pool builders and the original masters of the plunge pool in Ontario. Contact Seaway Pools & Hot Tubs, your trusted pool builders in Vaughan, Toronto, and Southern Ontario, to get started.
Read on to learn about who can benefit the most from plunge pools.
Those With Small Backyards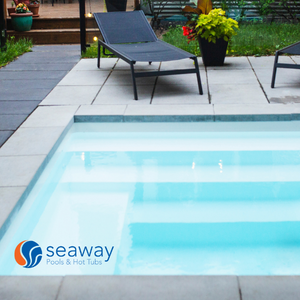 Small backyards are becoming increasingly common, so plunge pools are the perfect option for those who have a small space yet still yearn for a swimming pool. Plunge pools from Seaway Pools & Hot Tubs are customizable. We have many choices and designs to choose from, so you're able to get the plunge pool best suited for your backyard aesthetic. Not only do plunge pools increase your backyard's functionality, but they also give your space exceptional architectural detail.
People Who Live Alone
Sometimes, a large pool is too much for those who live alone. A plunge pool, larger than a hot tub but smaller than a standard pool, is the perfect size for people who live on their own. Plunge pools are easy to take care of, the installation is faster and easier, and they're more affordable. If you live on your own, but want to add a plunge pool to your backyard space, contact Seaway Pools & Hot Tubs pool builders. Our pool builders in Vaughan and the surrounding areas will provide you with the perfect plunge pool suited to your needs, such as a custom design, built-in jets, and extra seating.
Entertainers
When it comes to entertaining, nothing quite adds to a party like a pool. However, large swimming pools often take up a lot of space, ultimately decreasing the functionality of a backyard. For frequent entertainers who like both optimized backyard space and a swimming pool, plunge pools are incredibly beneficial. Plunge pools are easily integrated into any backyard, regardless of shape or size.
Fitness Fans
For those who like to workout, especially in various environments, plunge pools are a fantastic way to burn calories. While you're able to exercise in any size of pool, plunge pools are great for working out on your own. Water resistance training is tailored to any fitness level and is perfect for people with joint or mobility issues and those recovering from sports injuries.
Tips for Creating the Perfect Backyard Swimming Pool
To get the perfect backyard swimming pool, you need to work with trusted pool builders, like the professionals at Seaway Pools & Hot Tubs. Once your pool has been installed, get all the necessary supplies and accessories to ensure your plunge pool is the life of the party. We have everything from toys, games, floaters, lights, and speakers.
Choose Seaway Pools & Hot Tubs
For trusted and experienced swimming pool builders, choose Seaway Pools & Hot Tubs. No matter what type of swimming pool you'd like, we can do it — from plunge pools, in-ground, to semi-above ground and aboveground.