Water Features You Can Include in Your Inground Pool
When designing your dream inground pool this Spring, there are many factors to consider, like the shape, design, and potential water features. Before pool construction commences, you need to decide on what water features you'd like to have in your brand-new custom swimming pool to take your outdoor experience to the next level. At Seaway Pools & Hot Tubs, our pool builders in Toronto will help you design any water feature you'd like so you're able to get the perfect swimming pool.
Here are different water features you're able to add to your swimming pool this year.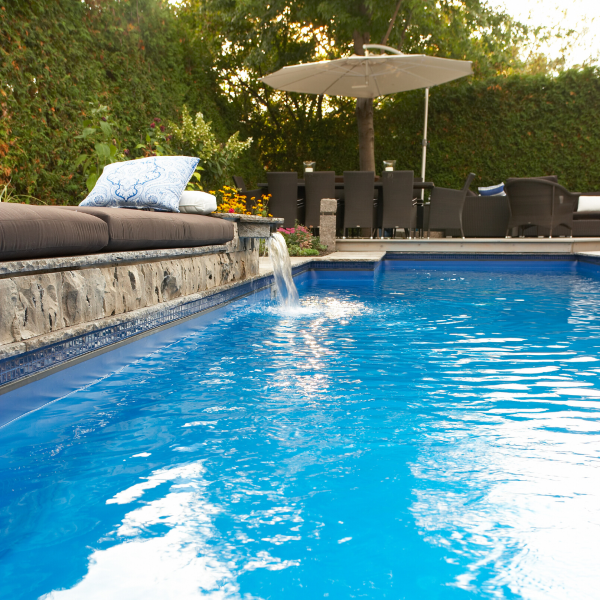 Beach Entry
If you want your backyard to look like a beach paradise, lined with lush palm trees, vibrant flowers, and sand that looks like it came from a tropical island, then a beach entry is for you. A beach entry for your inground pool makes your backyard and swimming pool a unique oasis. As you walk into your pool, it gradually gets deeper, much like when you walk into the calm, warm waters of the sea. You're able to customize your beach entry as much as you like, from the slope to the colour.
Stairs
For a classic pool entry, consider stairs. Before starting pool construction, you need to pick what stairs you'd like going into your pool. Choose from corner stairs or wide, large steps that span the width of your swimming pool. Where small stairs maximize your available swimming space, large stairs offer a modern aesthetic and various levels of depth. If you have a different vision in mind, visit Seaway Pools & Hot Tubs, where our specialists will help you design the perfect pool entry.
Waterfalls
Waterfalls in your swimming pool are the pinnacle of luxury. Consider adding waterproof LED lighting to your inground pool, to change the colour of your waterfalls for an eye catching effect. From dramatic rain curtains to a relaxing, small waterfall trickling into your pool, Seaway Pools & Hot Tubs, the leading pool company in Toronto can do it all.
Built-in Spa
If you'd like to add a touch of hydrotherapy to your inground pool this year, consider adding a built-in spa. Built-in spas give you the best of both worlds: a look of opulence and the added comfort of massaging jets. After you swim laps in your pool, you're able to sit back and relax with the jets in your built-in spa. For those that experience joint and muscle pain, adding a built-in spa is an excellent idea.
Fountains
If you want to make your swimming pool the focal point of your backyard, consider adding a fountain. Fountains come in many different customizations, all of which the experts at Seaway Pools & Hot Tubs will help you with. Deck jets are fountains installed on your patio that shoot small streams into your swimming pool and can be customized depending on your preference.
Lighting
To make your water features stand out when the sun goes down, add some lighting to your swimming pool. Choose from underwater lights, floodlights, or garden lights surrounding your pool.
The Trusted Pool Company Toronto
To achieve the inground swimming pool of your dreams this year, visit Seaway Pools & Hot Tubs, the leading pool builders and supplier of luxury hot tubs in Toronto and throughout Southern Ontario. Our experts will work with you every step of the way, from designing your pool to building it and, finally, performing pool opening services for you.