Upgrade Your Hot Tub Experience with Aromatherapy
Hot tubs are the perfect place to unwind after a long, stressful day; the massaging jets, warm water, and silence create the perfect environment for leisure. To really increase the relaxation of your hot tub soak, consider aromatherapy for hot tubs. Aromatherapy for hot tubs from Seaway Pools & Hot Tubs, your trusted supplier of hot tubs near Toronto, has aromatherapy products specifically designed for hot tubs and enhancing your hot tub experience. To add some lavender or eucalyptus to your hot tub routine, shop hot tub supplies from Seaway Pools & Hot Tubs online or in-store.
Keep reading to learn how to enhance your hot tub experience with aromatherapy.
What is Hydrotherapy?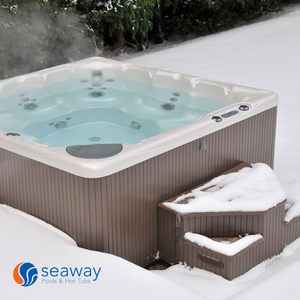 Hydrotherapy is the practice of soaking in warm water, like a hot tub, to help reduce stress, muscle pain, joint pain and improve mental health. To help improve your hydrotherapy experience, incorporate some aromatherapy. Not only do aromatherapy hot tub products create an amazing smell, but they also help with relaxation and reducing stress. If you're looking to incorporate hydrotherapy into your hot tub routine, make it really special with aromatherapy for hot tubs.
Types of Aromatherapy Hot Tub Supplies You Can Shop
When thinking of aromatherapy, many think of essential oils right away. However, essential oils aren't meant for hot tubs and could result in dirty water and clogged filters. If you need specific aromatherapy hot tub supplies, visit Seaway Pools & Hot Tubs. For your hot tub near Toronto, we have all the aromatherapy products you need, including epsom salts, oils specifically designed for hot tubs, crystals, and spa bombs. Spa bombs from Seaway Pools & Hot Tubs are made with vitamins, aloe vera extract, and the essential oil of your choice, making them the perfect addition to your hot tub soak. Our spa bombs come in various scents, like eucalyptus mint and lavender, making your next soak in your hot tub luxurious.
Benefits of Aromatherapy & Hot Tubs in Toronto
Aromatherapy for hot tubs is incredibly beneficial, especially if you opt for eucalyptus or lavender scents. Eucalyptus is an excellent plant, and when used for aromatherapy in hot tubs, it improves congestion, clears your mind, reduces headaches, and eases muscle and joint pain. Lavender, on the other hand, is a fantastic aid in relaxation. Lavender is one of the more popular and versatile essential oils used with aromatherapy in hot tubs. It relieves stress, improves your sleep quality, and has the power to treat joint and muscle pain. Next time you're looking to head to bed after your hot tub soak, try lavender aromatherapy for hot tubs from Seaway Pools & Hot Tubs.
Other Ways to Enhance Your Hot Tub Experience
Creating a spa oasis in your backyard with your hot tub may take more than just adding in aromatherapy hot tub products. For instance, put some lights up in your backyard, add a firepit for ambiance, and have some quiet music playing in the background. Once your backyard is a comfortable and peaceful environment, dip into your hot tub and let the jets and spa bombs work their magic.
Optimize relaxation.