Trendy Features to Ask Your Swimming Pool Builders for in 2022
When you're thinking about planning and building your pool this year, it's okay to dream big — and at Seaway Pools & Hot Tubs, we encourage it, and we want you to have the pool you've always imagined. Don't settle for a generic backyard pool, and ask your swimming pool builders to add in some luxurious features to make your pool and backyard a lush oasis.
If you're unsure where to start, contact local pool companies in Toronto, like Seaway Pools & Hot Tubs, where our team will generate some ideas for you. For now, though, if you're looking for some swimming pool inspiration, continue reading.
Waterfall Features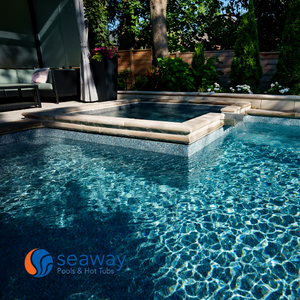 The sound of gentle, running water gives your backyard an elegant and luxurious feel. There are several ways to integrate waterfall features in your swimming pool — the classic waterfall cascading down from a dramatic rock wall, brilliant rain curtains, or spa spillways.
Cascading Waterfall
Cascading waterfall features are among the most popular and come in different styles and sizes to best suit your vision. There are two primary styles of cascading waterfalls; a raindrop pattern or a smooth sheer sheet of water. Both are visually stunning and will elevate any swimming pool.
Rain Curtains
Depending on your preference, your swimming pool builders will also install rain curtains, and depending on your preference, can be up to eight feet tall. The height of dramatic rain curtains will easily make your swimming pool the focal point of your backyard and the water will sparkle in the sunlight. If you're after grandeur and elegance, then rain curtains might be for you.
Spa Spillways
Spa spillways, another feature that pool companies in Toronto will tell you more about, are a fantastic addition if you have an integrated and elevated jacuzzi in your swimming pool. With a spillway, there's an open section of your jacuzzi that overflows water into your pool; it's an excellent way to utilize a simple yet elegant water feature.
Built-in Hot Tub
If you're going to have a hot tub, why not combine it with your pool? No luxury pool is complete without having an integrated hot tub and spa. With a built-in hot tub in your pool, you'll have a luxurious backyard oasis and reap the full benefits of a hot tub whenever you please. One moment you'll be swimming laps in your pool; the next, you'll be relaxing in your hot tub, stretching and unwinding from your workout. A pool and hot tub duo introduces the best of both worlds and opportunities for a healthy and relaxing lifestyle.
Retaining Wall
A retaining wall is a small wall around part of your pool, often acting as a barrier around your swimming pool from possible erosion. However, it's also an excellent way to integrate certain features, such as a waterfall, a bench for seating, or even act as a spot for pots and planters. Retaining walls aren't always needed if your backyard is level, but if your backyard is on a slope, it may be necessary to keep dirt and debris from running into your pool.
The options for retaining walls are endless; if you'd like a dark charcoal slate retaining wall, no problem. If you'd prefer a beige, uniform stone design, it's done. At Seaway Pools & Hot Tubs, our priority is to make your swimming pool a lavish paradise, and our team will help you design the perfect custom retaining wall, among other features, best suited for your pool.