Transform Your Backyard Swimming Pool into a Halloween Party
Just because summer is behind us doesn't mean that the backyard is out of commission. With your luxurious swimming pool from Seaway Pools & Hot Tubs' trusted swimming pool builders in Toronto and the surrounding areas, high-quality hot tubs in your backyard, and endless accessories from your local pool supply store, you can throw an epic Halloween party. From hot tub repairs, pool supplies, patio heaters and firepits, you can easily prep your party with the help of Seaway Pools & Hot Tubs.
Here's how you can transform your backyard into a memorable Halloween party.
Get Your Hot Tub Running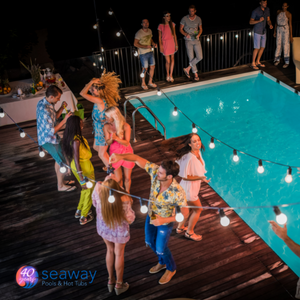 Before anyone arrives at your Halloween party, it's best to conduct hot tub repairs and clean out your hot tub. Ideally, you should drain your hot tub, clean or replace the filter, and clean the hot tub shell as well as the cover. While your hot tub may get dirty with your party guests in it, you don't want them to get into cloudy hot tub water that hasn't been adequately cleaned in a long time. If you need cleaning products, visit your local hot tub and pool supply store for all the necessary cleaning agents. For help getting your tub into shape, contact Seaway Pools & Hot Tubs for maintenance or shop all the supplies you need to balance your water from our pool supply store.
Find a Good Backyard Grill
Nothing elevates a party like a beautiful grill and good food. Not only does it provide party snacks, but it also puts smoke into the air, adding to your party's spooky and eerie Halloween vibe. At Seaway Pools & Hot Tubs, we're more than just swimming pool builders and a pool supply store — we also have products to elevate your parties, like outdoor grills.
Invest in Patio Furniture
With Halloween parties, you never know what costumes your guests may show up in. Some of these costumes may be uncomfortable standing in for a long time, so having ample outdoor furniture is a must. Patio furniture is an excellent way to make your backyard a luxurious oasis, especially during a party. At Seaway Pools & Hot Tubs, choose from loungers, sectionals, to relaxing chairs that'll make your Halloween party one for the books.
Warm Up with a Fire Pit and Heater
Outdoor heaters and fire pits are perfect for keeping your guests warm well into the evening. We offer many different designs and aesthetics for fire pits and heaters at Seaway Pools & Hot Tubs, all of which improve comfort during the fall. Our fire pits are durable with a sophisticated design, making them the centre of attention during your party. Our outdoor heaters come in various designs, ranging from fire columns, propane heaters, to portable tabletop heaters that can be moved around during the party. To keep your party going into the night's late hours and ensure your guests stay warm, visit Seaway Pools & Hot Tubs for premium fire pits and outdoor heaters.
Make it Cozy With a Privacy Trellis and Lighting
Consider a privacy trellis if you want to add an air of exclusivity and privacy to your party. Not only do they prevent people from looking in, but a privacy trellis is excellent for hanging lights and Halloween decorations.
Shop Pool & Hot Tub Supplies at Seaway Pools & Hot Tubs
Get ready with Seaway Pools & Hot Tubs for a memorable Halloween party featuring premium outdoor living furniture and an inviting hot tub set up.