Tips to Improve Connection with a Backyard Swimming Pool
As interests change and social lives demand more time, it's common for families to look for more ways to connect with one another. Whether you all live in one home or some are stopping by for a visit, finding time to bond as a family can be challenging. If you're looking for new ways to get together as a family, consider investing in a backyard swimming pool. Pool companies, like Seaway Pools & Hot Tubs, know that inground pools are more than just a home upgrade — they're a communal space for the people you love most.
Here are some tips to improve family connection with a backyard swimming pool.
Keep Kids at Home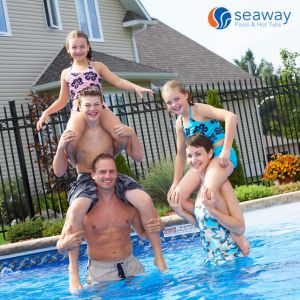 During the summer, kids often leave the house to find a way to spend their afternoon, such as the beach, the mall, or even the community pool. If you were to invest in a backyard swimming pool, your kids could be easily amused in the comfort of their own home! Your kids and their friends can spend their days swimming or lounging by the pool. When friends aren't around, bonding with them has never been easier. Around the pool, everyone is happy and relaxed.
Add Features for Everyone
To spice up your inground pool, consider adding some new features. If you and your family love to play sports together or have a competitive streak, install a diving board, volleyball net, or basketball hoop. To make your swimming pool fun for people of all ages, look into adding a tanning shelf. A tanning shelf is fantastic for families with younger children; it's a safe and shallow space for them to splash and play. At Seaway Pools & Hot Tubs, one of the leading pool companies in the region, our team will design the perfect backyard swimming pool for your family needs.
Play Pool Games
While sitting and wading in the pool is the perfect opportunity to bond with your family this summer, make it even better with some fun pool games. Games such as marco polo, volleyball, handstand contests, and more will only bring you and your family closer together.
Upgrade Your Patio & Backyard
Family fun doesn't end when you leave the pool. Just because you exit your swimming pool doesn't mean it's time to stop spending time together. Upgrade your backyard with luxurious outdoor conversation sets, firepits, umbrellas, pergolas, and loungers to keep the family fun going all day and night long. Seaway Pools & Hot Tubs has everything you need and more to make your backyard a lush oasis perfect for connecting with your family.
Disconnect & Engage in Conversation
Technology and phones are incredibly handy but, unfortunately, are also very distracting. Since swimming pools are a no-phone zone, it's the perfect way to talk with your family in a laid-back environment. With fewer distractions, spending time in your pool allows for uninterrupted family bonding.
Build Your Dream Backyard with Seaway Pools & Hot Tubs
Make this summer the perfect time to connect with your family. At Seaway Pools & Hot Tubs, we'll help you customize the perfect inground pool for your backyard and budget. Once your pool is installed, we'll also guide you through the opening and maintenance processes. With our pool maintenance services, you can enjoy endless family fun.