Tips for Hosting Your First Backyard Pool Party
It's exciting to have a beautiful new swimming pool installed in your backyard. When homeowners install custom inground pools, they are keen to celebrate and share their newly upgraded property with family and friends. At the same time that you are calling different pool companies for quotes, you may find yourself daydreaming about hosting your first pool party. A swimming pool is a fantastic feature to bring people together and keep guests entertained for hours and hours. Seaway Pools & Hot Tubs offers an array of stunning pools and have a highly skilled team to transform your backyard into a luxurious oasis that will be thoroughly enjoyed by your loved ones.
Read on for some tips for hosting your first backyard pool party.
The Perfect Outdoor Menu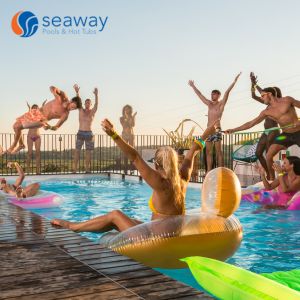 Food is almost always the centerpiece of any party. Food is king whether it be a children's birthday party or a 1000-person elegant wedding reception.
Here's the catch, less is more when serving food for a pool party. The meal will generally take place outdoors, and people may not have access to a table, depending on the set-up, so it's essential to keep the menu simple and casual. Barbecues work well alongside pool parties as they can be served on paper plates, and people can comfortably dine while seated outside on patio furniture. At Seaway Pools & Hot Tubs, we're more than just your go-to store for backyard landscaping, and swimming pool supplies. We also stock a range of luxury BBQs that elevate your outdoor experience, from charcoal grills to exclusive gas barbecues.
Music and Lighting Around Inground Pools
You can have great fun with the ambiance of your party using lighting and music. Pool companies often offer attractive lighting features that can be installed in and around inground pools. You can play your favorite music and even hang holiday lights around your backyard. Our Kuudoo Synergy Speaker in multiple sizes is a multi purpose speaker, outdoor light, and bottle cooler that will double down on its contribution to your party ambience. The speaker is available online or in-store along with our collection of pool supplies in our Markham and Newmarket showroom locations.
Party Activities
The good thing about a pool party is that the pool can serve as your main entertainment, with everyone choosing to swim, dance, or play in the water and others can mix and mingle alongside the pool and enjoy the luxurious ambiance.
Make good use of the pool and host little competitions like pool volleyball. You can throw in beach balls and other floaters if it's a family party with children. If kids are involved, you add bubbles to the party to make it a lot of fun.
Shop Seaway Pools & Hot Tubs for Your Pool Supplies
Seaway Pools & Hot Tubs have provided excellent quality pools over the last 40 years. We pay attention to detail and follow construction best practices. Our industry-leading swimming pool design and installation, paired with our vast selection of tools and maintenance services have earned our position of trust and quality in the Southern Ontario swimming pool community.