Tips for Efficient Inground Pool Maintenance
With the sun beating down and temperatures at a yearly high, summer is the time when you're getting the most use out of your pool. Friends and family will be in and out of the pool, creating traffic in the backyard. It's crucial to keep a clean and safe place to hang out for the summer to prevent accidents or injuries and enjoy the summer weather before it's gone. By practicing clean pool maintenance, your inground pool will always be ready for you and your guests to enjoy. Seaway Pools & Hot Tubs is a pool company that provides maintenance, cleaning and installation services and offers various pool accessories to spruce up your pool.
Find tips on keeping efficient inground pool maintenance below.
Regular Cleaning and Inspection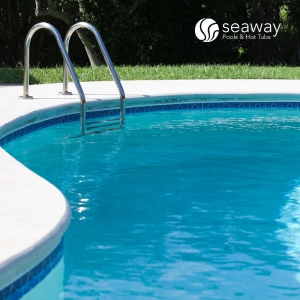 No one wants to swim in dirty water with bugs and other debris. Carrying out a regular cleaning practice will keep your pool enticing to jump into and enjoy. It will also prevent other serious consequences, such as clogged drains, algae growth, and debris buildup. You can achieve a clean pool with the proper maintenance and cleaning pool supplies online from Seaway Pools & Hot Tubs. This can help elongate the lifespan of your pool. It's also essential to do regular checks in and around the pool for any cracks, malfunctions or other problems that need to be addressed. Rectifying them early on will prevent long-term problems.
Upkeep Water Quality
Keeping clean water does not only mean cleaning out debris every now and then. The chemistry of the water plays a big part in maintaining clean and safe water to swim in. The primary function of the chlorine and other chemicals in your pool is to fight off any bacteria in the water. You can test the chlorine levels using testing strips or kits. Ensure to have a functioning filter and clean, balanced water.
Cover Your Swimming Pool
Using your pool cover is the best way to prevent the constant hassle of cleaning your pool of debris, or at least minimize it. Also, the cover can keep the pool from losing heat, which helps to be more energy efficient. By conserving the heat, you don't need to worry about reheating your pool; you can simply uncover your pool and enjoy those early morning swims.
Maintain Good Pool Hygiene
There are specific steps you can take to practice proper pool hygiene to minimize the hassle of cleaning your pool so often.
Shower before entering the pool: By rinsing yourself off, you are saving your pool from accumulating any excess oils, dirt, or debris stuck to your body. These factors can introduce impurities into your pool.
Using a pool vacuum: It can be challenging to reach the bottom of your pool when cleaning, especially in the deep end. Make use of a pool vacuum that does the job for you.
Proper Bathroom Usage: Especially with children, ensure your guests know to use the bathroom before getting into the pool to avoid any accidents.
Enforce rules around the pool: Setting rules can eliminate the risk of spills or messes from food or drinks. Drinks can significantly affect the ph levels of the water.
Shop Pool Supplies & Book Your Pool Maintenance
Amplify your pool with Seaway Pools & Hot Tubs. We carry many supplies and accessories to make your pool enjoyable and relaxing. We offer a wide selection of pool supplies online dedicated to maintenance. You can also choose us to handle your backyard swimming pool maintenance.