Tips for 2022 Swimming Pool Planning
During the winter, gazing into your backyard, you'll notice the snow accumulating on the ground and white horizons taking over the sky. As a result, thoughts of summer are hard to fight off. So, why not embrace it? If you think a swimming pool is the right addition for your home next summer, then it's as good a time as ever to start planning and reaching out to local swimming pool builders. Pool companies in Toronto will begin booking up quickly. Contact Seaway Pools & Hot Tubs, one of the most trusted custom swimming pool builders serving the Greater Toronto Area, and we can start drawing up a plan that transforms your snowy backyard into a dream vacation destination.
Here are some tips to help you plan your new swimming pool.
Shop Around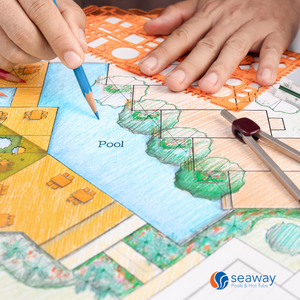 A backyard swimming pool is a significant investment. It's where you hope to be spending a chunk of your summer. From the pool companies in Toronto, it's a good idea to look for one with adequate experience you can trust. For the best evaluation, look at reviews, talk to peers who have installed backyard swimming pools, and review portfolios. As you assess various contractors, consider how they will be able to support your complete backyard vision beyond just the swimming pool. In addition to being one of the city's top swimming pool builders, Seaway Pools & Hot Tubs offers landscaping services and a variety of swimming pools and backyard accessories in our online pool supply store, so customers can give their home a cohesive transformation.
Zoning Laws
While most suburban neighbourhoods in the Greater Toronto Area are permitted to build swimming pools, it's always a good idea to check ahead of time. You can either contact the city and share your plans with them or seek advice from a knowledgeable swimming pool company in Toronto with experience in your area.
Budget
Setting a budget for your swimming pool will help you browse through your options. Even if your budget is on the lower end of the scale, you can get a luxury swimming pool for your home. Depending on how much you expect to spend, you can choose from in-ground or semi in-ground pools. At Seaway Pools & Hot Tubs, we can build swimming pools & hot tubs that suit a wide budget range without compromising its quality and functionality.
Consider Your Space
In Toronto, many properties have smaller backyards than homes in the surrounding area. Opting for small swimming pools or plunge pools in Toronto may be a more suitable option for your space. While you can customize the shape of your swimming pool at Seaway Pools & Hot Tubs, it's a good idea not to try and squeeze a large swimming pool into your backyard. Leave room for accents, patios, and other design elements. For inspiration or landscape design for your entire space, the team at Seaway Pools & Hot Tubs can help.
Schedule an Appointment Quickly
As spring approaches, appointments for swimming pools and hot tubs in Toronto start to fill up quickly. To get the most availability to work with, start reaching out to swimming pool builders sooner rather than later to have your swimming pool installed in time for the hot summer weather.
Order Your Pool Supplies
In 2020 and 2021, factory fires and supply chain disruptions caused North American chlorine shortages, leaving pool supply stores and pool owners low on stock. So, once you start finalizing your plans, it's a smart move to collect some swimming pool accessories and maintenance supplies in the off-season to save yourself the trouble during the summer.
Throughout the year, you can shop at Seaway Pool's & Hot Tubs' online pool supply store.
Contact us today to get started on your new backyard swimming pool.