The Most Common Causes of Pool Cover Damage
A premium swimming pool cover is an integral part of your swimming pool. Not only do pool covers reduce pool maintenance by keeping the water pristine, but they also help retain heat, enhance safety, and ensure the lifespan of your swimming pool. Unfortunately, pool covers may get damaged throughout the seasons for various reasons, ranging from extreme weather, animals, and debris, to even innocent mistakes on our end. As a result, your swimming pool cover will be less effective at protecting your swimming pool.
Here are some common causes why your swimming pool cover may become damaged.
Excess Water and Extreme Weather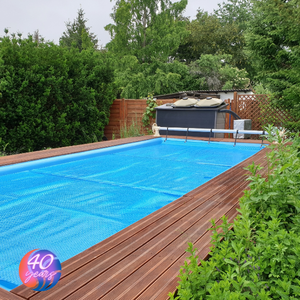 After a large storm or snow melt, water will settle on pool covers, ultimately causing them to lose strength and weaken over time. Even if your pool cover is sturdy, excess water pooling on it will only cause damage. Consider investing in a water pump; a water pump on top of your pool cover will efficiently eliminate any water that accumulates on the surface of the cover. In addition to excess water damaging your pool cover, it may also become damaged by high winds. Windy summer storms will damage most things in their path, and your pool cover is no exception. To prevent it from being swept away or torn, consider investing in wall bags to guarantee your pool cover stays in good condition.
Abrasive Debris
Similar to the accumulation of water on your pool cover, large amounts of debris on your cover will also result in damage. If your pool cover is full of leaves, branches, and other debris, it will eventually sag, tear, or topple into your pool if there's enough weight on it. If you notice debris on your pool cover, remove it daily with a brush or skimmer. To ensure your pool cover stays in excellent shape, check out Seaway Pools & Hot Tubs online store for pool maintenance supplies — we'll have everything you need.
Animals
No matter where you live, animals will pop up into our backyards and look around; our pools are no exception. It's not unusual for squirrels, birds, or raccoons to walk over pool covers, ultimately reducing its efficacy. To keep animal interference at bay, keep debris on your pool cover at a minimum.
Human Error
If you notice large amounts of water, snow, or ice on your pool cover, don't try to remove it with a shovel or ice pick — this will easily damage your pool cover and poke holes in it. While this may be an innocent mistake, you should remember that your pool cover is delicate to sharp ends and edges. In addition, not securely attaching your pool cover may result in it slipping into your pool. This error will result in algae growth, debris accumulating in your pool, or maybe even a dangerous situation where your children or pets fall into the pool. For advice on securely attaching your pool cover, visit the experts at Seaway Pools & Hot Tubs — our specialists will guide you every step.
If you require pool cover repair or want to purchase a brand new one, look no further than Seaway Pools & Hot Tubs.