Supplies You Need to Get Your New Hot Tub Running
A backyard hot tub is an exciting new addition for any homeowner. With year-round usability, you'll want to find your perfect hot tub and start stocking up on hot tub supplies, so you can use it immediately. To get your hot tub in Toronto up and running seamlessly, you'll need a few essential supplies. For hot tub sales and hot tub supplies, shop at Seaway Pools & Hot Tubs online or in-store. We have all you need at Seaway Pools & Hot Tubs to guarantee your hot tub will be ready to use quickly.
Here's a guide to essential hot tub supplies you need to open your hot tub.
Clean Filters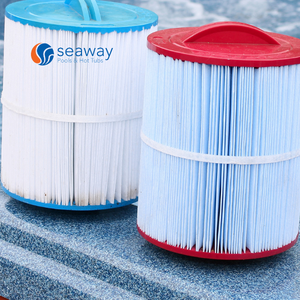 After you've purchased your new hot tub from Seaway Pools & Hot Tubs hot tub sale, you'll need to get it up and running. But before you fill your hot tub with water, you must ensure that you have clean filters. Hot tub filters are integral to your tub's longevity and keeping your water clean. When you purchase hot tub filters, it's wise to keep a few others on hand as well — they don't have any expiry date, so having an extra set at home means that you can replace your old hot tub filters as soon as possible.
Fill Your Hot Tub
Once you have clean filters in and your hot tub is wiped down from any impurities, it's time to fill it up. Filling your Beachcomber hot tub is easy — just place your garden hose in the hot tub and leave it to fill up. However, it's crucial to have the right amount of water in it. If the water level is low, it may damage the jets. If it's too high, your hot tub will overflow when people sit in it.
Test Strips
Out of all of the hot tub supplies we have at Seaway Pools & Hot Tubs, test strips are one of the most important. You should always have test strips on hand; they're essential in ensuring your water is safe and balanced. Testing your water should be completed around once a week. However, if there have been more people than usual in your hot tub, you should test it after a gathering.
Products to Adjust pH
After you test your water, you'll need to balance it, either with a pH decreaser or a pH increaser. If the pH is too high, there are high alkalinity levels, and your sanitizer won't be as effective. If the pH of the water is low, it may result in skin and eye irritation.
Hot Tub Water Sanitizer
Much like balancing your water after a gathering, you should also sanitize it. Investing in high-quality sanitizers is vital to keeping your hot tub water clean and pristine.
How to Get More Out of Your Hot Tub
Once you have all the necessary hot tub supplies, then you're able to have fun with it and purchase hot tub accessories. To increase the luxury of your hot tub, consider aromatherapy for hot tubs. Or, to boost your hot tubs' energy efficiency, invest in a high-quality hot tub cover.
Shop Hot Tub Supplies at Seaway Pools & Hot Tubs
No matter what you want to purchase for your hot tub, we have it at Seaway Pools & Hot Tubs.