Supplies You Need For Your Swimming Pool Opening
As the temperature rises, it's time to think about your swimming pool opening. But before diving in, it's important to ensure that your pool is properly equipped with all the necessary supplies. Opening your swimming pool for the season can be an exciting time. However, it can also be overwhelming, especially if you're a new pool owner. Knowing which pool supplies you need can make the process easier and more manageable.
Read on to learn what equipment you need as you shop pool supplies online to easily open your swimming pool. Or, leave the swimming pool opening to the Seaway Pools & Hot Tubs professionals and book your service with our technicians today.
Pool Cover Pump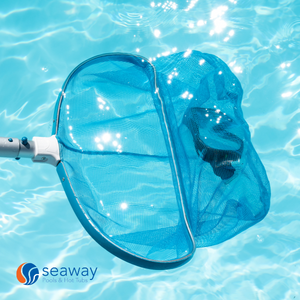 If you've covered your pool during the winter months, the first thing you need to do when opening your pool is to remove the cover. A pool cover pump will help you remove any standing water on the cover, making it easier to remove and preventing any debris or dirty water from falling into your pool. A pool cover pump is a must-have for any pool owner and an essential tool for pool opening.
Swimming Pool Chemicals
Before you can start swimming in your pool, you need to balance the chemicals. This includes chlorine, pH adjusters, and algaecides. Make sure you have all the necessary chemicals on hand to get your pool water clean and clear. Chemicals play a vital role in maintaining the water quality of your pool, and it is essential to keep them in balance to ensure that the pool is safe for swimming. At Seaway Pools & Hot Tubs, we stock a range of water care products and pool supplies online so you can find everything you need to open your pool. You shop our simple pool-opening all-in-one kit to make stocking up on swimming pool supplies easier than ever.
Skimmer Net
A skimmer net is essential for removing any debris that may have accumulated in your pool during the off-season. This includes leaves, twigs, and other debris that may have fallen into your pool. A skimmer net is an essential tool for maintaining the cleanliness of your pool, and it is important to have one on hand when opening your pool for the season.
Pool Brush
Brushing the sides and bottom of your pool is essential to remove any algae or dirt that may have accumulated over the winter months. A pool brush with a telescopic handle is ideal, as it will allow you to reach all areas of your pool. Regular brushing of your pool will help to keep it looking clean and sparkling, and it will prevent algae buildup that can be harmful to swimmers.
Vacuum Head
Maintaining a clean swimming pool is essential for both the longevity of your pool and the health of swimmers. While traditional pool cleaning methods, such as manual brushing and vacuuming, can be time-consuming and labour-intensive, a robotic pool cleaner can make the process quick and easy. Robotic pool cleaners are designed to scrub and vacuum the bottom and walls of your pool, removing dirt, debris, and algae. They are efficient and effective, requiring minimal effort from the pool owner. By investing in a robotic pool cleaner, you can ensure that your pool is always clean and sparkling, with minimal time and effort required on your part. A robotic pool cleaner will streamline pool maintenance all season long.
Water Testing Kit
Before adding any chemicals to your pool, it's essential to test the water to determine what needs to be added. Water testing kits will help you determine your pool water's pH, alkalinity, and chlorine levels. Regular testing of your pool water will help keep it in balance and ensure it is safe for swimming. You can shop our vast selection of water testing kits online or in-store at Seaway Pools & Hot Tubs.
Shop Pools Supplies Online or In-Store
At Seaway Pools & Hot Tubs, we offer a wide range of pool supplies online, from water care chemicals to pool equipment like brushes and test strips. We have everything you need to get your pool ready for the season. Our online store is easy to navigate, and you can place your order from the comfort of your own home. Or you can visit one of our two GTA showrooms to pick out your swimming pool essentials in person.