Sunshelves & Tanning Benches: Customize Your Inground Pool
While inground pools are fun, luxurious, and convenient, especially in hot summer, they become even better when customized. To create a backyard oasis with your swimming pool, customize it entirely with Seaway Pools & Hot Tubs' pool builders. From semi-inground pools to tanning ledges, or beach entries, your swimming pool can be designed exactly how you like.
Keep reading to learn more about how you can customize your swimming pool with award-winning pool builders in Toronto, Vaughan, Newmarket, Markham and elsewhere in Southern Ontario with Seaway Pools & Hot Tubs.
Inground vs. Semi-Inground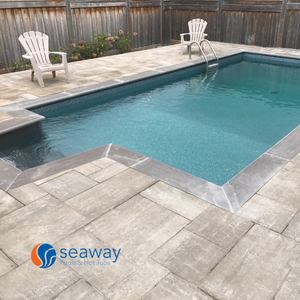 When deciding on your swimming pool, you need to figure out if you want an inground or semi-inground pool. Inground pools are perfect for those who wish to have a backyard paradise and for their pool to be the centre of attention. Semi-inground pools, however, are an excellent way to enjoy the luxury of a swimming pool while optimizing backyard space. Semi-inground pools either come in an oval, round, or rectangular shape, and you're able to choose from different stains or finishes to fit your backyard aesthetic.
Built-in Spas
Add some extra hydrotherapy to your swimming pool by adding a built-in spa. Not only do built-in spas look lavish, but they're also the pinnacle of relaxation. The massaging jets are fantastic for easing joint and muscle pain. If you take a quick dip in your built-in spa before bed, you'll have a long, deep slumber.
Tanning Benches and Sunshelves
Adding a tanning bench to your inground pool is a great way to sit or lay by the water without fully immersing yourself. Tanning benches are installed along the edge of your inground pool, so if you want to go swimming, you're able to ease yourself into the cool, refreshing water.
Beach Entries or Stairs
Having a beach entry makes your inground pool a unique focal point. With a beach entry, as you walk into it, it gradually gets deeper, similar to the experience of taking a dip into the calm waters of the Mediterranean. However, if you want a classic entry to your pool, you can customize it and add stairs. Choose from corner stairs or large steps that span the width of your pool. Regardless of what kind of stairs you want, our Seaway Pools & Hot Tubs pool builders will help you achieve it.
Shape and Size
If you have a large backyard, opt for a large swimming pool. However, if you want to increase the functionality of your backyard or if you have a smaller property, then maybe a semi-inground or plunge pool is best for you. If you want to make your swimming pool stand out, make it a unique shape. Pools come in all shapes and sizes, like rectangles, ovals, or even a horseshoe.
Visit Seaway Pools & Hot Tubs
At Seaway Pools & Hot Tubs, our pool builders will help you design and achieve the swimming pool of your dreams. If you have a small or large backyard, we'll help you customize the perfect swimming pool. From semi-inground pools to inground pools with tanning ledges, our team will help you get your perfect swimming pool.
Start Planning Your Perfect Backyard Swimming Pool.