Recommended Tech to Upgrade Your Pool Installation
Have you been craving a vacation getaway but cannot escape real life? Look no further than your very own backyard. If you dream of bringing your backyard pool vision to life, the award-winning pool contractors at Seaway Pools & Hot Tubs can help you maximize your summer. With professional design and construction and innovative pool technology, you can get more out of your backyard pool and summer. Read on to learn what additions you should make to your backyard pool installation this summer.
Robotic Pool Cleaner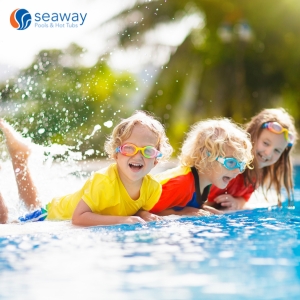 Save yourself time and money with a robotic pool cleaner. This new technology is flexible with all pools, as it can adapt to any shape, type, and finish. These small machines crawl around the bottom of the pools and clean them by themselves, using suctioning to pick up any debris and minimize algae forming in the water. Count on robotic cleaners to be energy efficient and cost-effective as well, as they use the same amount of energy as a singular light bulb. Use the robotic pool cleaner once a month for the best results. Get one today to make pool maintenance a whole lot easier.
Automatic Pool Chlorinators
Opt for an automatic pool chlorinator instead of manually putting chlorine into your pool. This piece of equipment distributes the chlorine evenly throughout your pool at a fixed rate that you prefer. An automatic Chlorinator eliminates the hassle of constantly measuring the correct amount of chlorine to put into your pool. You can choose between an inline or outline chlorinator; however, inline chlorinators can only be installed during pool installation or renovation of a pool. In both systems, water passes through a PVC pipe to dissolve the chlorine to be filtered into the pool.
Natural Gas Pool Heater
The main benefit of natural gas pool heaters is the amount of time it takes to heat the pool. Compared to heat pumps, gas heaters work in minutes or hours, whereas pumps take hours or days to work. Gas heaters are also more energy efficient, therefore costing less. No matter the climate, gas heaters will function well in any condition, equally. Leave the heater on for 8-12 hours; your pool is all set. For more insight, contact our award-winning backyard swimming pool contractors at Seaway Pools & Hot Tubs.
Upgrade Your Pool Installation with Seaway Pools & Hot Tubs
Finding a reliable pool maintenance company with extra charges and service quality can be challenging. That's why Seaway Pools & Hot Tubs is here to provide all the services you need to upkeep your pool, from repairs to cleaning. With over 40 years of experience, our pool contractors only offer quality experiences and services. Book a same-day or next-day appointment with us to solve any of your pool and hot tub-related issues.