Pool vs Hot Tub: Which One is For You
Backyard swimming pools and hot tubs are both great home additions for a number of reasons, especially for those who simply love being immersed in water. Each feature offers benefits, and while it's a great idea to reimagine your backyard with both a hot tub and a newly built swimming pool, many people want to take their upgrades one at a time. If you're torn between a hot tub in Toronto or a new swimming pool installation in Toronto, here's your guide to making a decision that best suits your needs and lifestyle. For hot tub sales or to consult with award-winning pool builders, contact the team at Seaway Pools & Hot Tubs.
Exploring the Functionality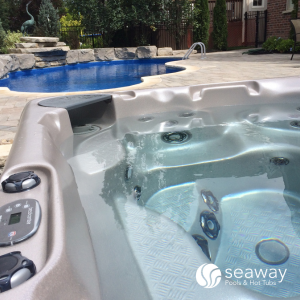 While at its core, hot tubs and swimming pools are artificial bodies of water in which we can immerse ourselves, they differ in how they are used.
Swimming Pool Functionality
Backyard swimming pools offer a vast range of functionality which can be enhanced or altered by additional swimming pool supplies, toys, and accessories. Essentially, your swimming pool is a place for exercise, play, and relaxation. Pool floaties, hammocks, and other fun floatation devices are perfect for laying back and enjoying warm summer days. Regardless of whether you opt for a large swimming pool or a small plunge pool, you can enjoy a fun venue for exercise, from swimming laps to low-impact water aerobics. You can even enhance your pool functionality with games like volleyball nets, basketball nets, or other floating toys to engage in healthy competition. If you love swimming, exercising without strain, spending quality time with loved ones, or want to curate a beautiful outdoor space, then you should schedule a consultation with our award-winning pool builders in Ontario to consider swimming pool installation.
Hot Tub Functionality
Hot tubs, on the other hand, have a more simple functionality. Personal hot tubs are a place for you and your guests to relax and embrace the warmth of the tub. From massage jets to Bluetooth speakers and LED lights, Beachcomber Hot Tubs are designed to facilitate relaxation. Hot tub accessories and additives like aromatherapy bombs only enhance the experience. Being immersed in an embrace of hot water and massaged by strategically placed hot tub jets allows you to relax your muscles, melt away stress, and calm your mind. Hot tub use is an excellent form of hydrotherapy that helps you sleep, live, and feel better, making it perfect for families, athletes, busy professionals and many more. To indulge in the relaxing effects faster, shop hot tub sales at Seaway Pools & Hot Tubs at one of our two GTA Showrooms.
The Maintenance Difference
Due to the size and design, hot tubs tend to need less maintenance than swimming pools. However, both require consistent water care, from testing to balancing, to ensure your pool and hot tub are safe and clean. If you're concerned about pool or hot tub maintenance, you don't have to take it on alone. You can shop hot tub or pool supplies online or in-store from the guidance of the Seaway Pools & Hot Tubs team. To streamline maintenance further, you can book hot tub and swimming pool services with our specialists. If you've always dreamed of a backyard pool but are concerned about maintenance, pool accessories like robotic pool cleaners and remotely controlled pool pumps can significantly cut down your manual maintenance needs by maximizing conveniences with innovative pool technology.
Available Space
Outdoor space is an important deciding factor for many people when choosing between a pool and a hot tub. Hot tubs can be nestled into decks or corners of your yard without compromising the functionality of your backyard if you are low on space. Whereas pools are often considered larger additions. However, with the popularity of the plunge pool, our expert pool builders can customize a smaller swimming pool that suits your specific space requirements. While more available space lends itself to a large, luxurious pool atmosphere, you can still build a beautiful backyard oasis with a smaller yard. Book a consultation with Seaway Pools & Hot Tubs to learn more about your swimming pool options.
Explore Hot Tub Sales & Swimming Pools with Seaway
Trust the leading pool builders and hot tub store in Southern Ontario for all your swimming pool and hot tub needs. For over 40 years, Seaway Pools & Hot Tubs have provided high-quality hot tubs, luxury swimming pools, and beautiful backyards. Visit one of our two showroom locations in Markham and Newmarket to view our hot tub sales, talk to our team about custom pool installations, or both.