Pool Supplies You Should Check for Pool Season
When it comes to opening your swimming pool this summer, ideally, the process should be seamless. However, for it to be a quick and stress-free experience, you need to have all the necessary pool supplies. If you fear that you don't have the right equipment, shop at Seaway Pools & Hot Tubs, Southern Ontario's leading swimming pool and hot tub company, where you can find all the necessary pool supplies online. Not only is Seaway Pools & Hot Tubs one of the leading pool installation companies, but we also have all the supplies and accessories you need for a perfect swimming pool opening. With Seaway Pools & Hot Tubs online shop, relaxing in your swimming pool just got easier.
Here's your guide to the supplies you need before you open your swimming pool.
Water Testing Kits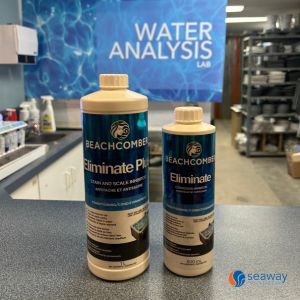 Before adding any chemicals or cleaning agents to your pool, you must have test kits. Test kits determine your swimming pool's alkalinity, pH balance, and chlorine levels. Once you get the results from your test kit, you can add the necessary chemicals to ensure your water is balanced. Keeping your swimming pool water balanced is critical to a long-lasting, safe, healthy pool.
Pool Cleaning Agents
Having the proper cleaning agents and chemicals is vital. While you may be eager to take the first dip of the season, you'll need to wait until the water is balanced and shocked. To ensure you have all the right cleaning agents, visit Seaway Pools & Hot Tubs for pool supplies online. We stock a wide range of cleaning agents and water care products, so you'll have all the necessary products to open your pool.
Vacuums & Robotic Cleaners
While you don't need this right when you open your pool, it's a good idea to have it on hand — after all, your swimming pool could get dirty very quickly. At Seaway Pools & Hot Tubs, we're more than just one of the leading pool installation companies; we stock regular and robotic vacuums. Robotic pool cleaners are effective at scrubbing away grime and dirt without you even having to think about it. This summer, invest in an automatic pool cleaner to guarantee your swimming pool is always immaculate.
Pool Brush & Skimmers
A pool brush is essential for a clean swimming pool, especially when opening it up for the season. Brushing the bottom and the sides of your swimming pool removes any dirt and algae that may have accumulated throughout the winter.
While your pool cover should keep out the majority of dirt and debris from your pool, sometimes, a skimmer helps eliminate tiny particles that get into your swimming pool throughout the day. Before your pool gets dirty this summer, get a skimmer to keep it pristine.
Games, Toys & Swimming Pool Accessories
Of course, toys and accessories are a must-have when you open your pool. On those hot summer days, we all want something to lounge on, so why not be prepared? At Seaway Pools & Hot Tubs, we have the necessary supplies and a wide range of toys and accessories to keep your pool clean and fun this summer.