Pool Supplies to Stock Up on for a New Backyard Pool
Whether you're building a new backyard swimming pool in Toronto, or getting yours ready for the summer, it's always a good idea to ease into the season by getting stocked up on all the necessary pool supplies from your local pool supply store. To keep your swimming pool running smoothly all season, check out what pool companies in Toronto offer. At Seaway Pools & Hot Tubs, we have a wide variety of pool accessories and supplies to choose from, ensuring that you have all the necessary equipment to make sure your pool season this summer is seamless.
Read on for an easy-to-follow shopping guide for the 2022 pool season.
Skimmer Net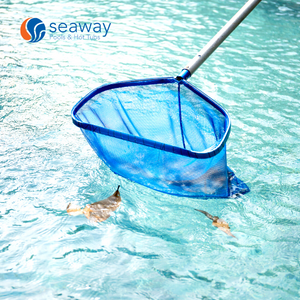 A skimmer net is crucial for keeping your pool clean this summer. It makes it easy and efficient to remove unwanted bugs, dirt, and other debris that may enter your pool throughout the day. When you look into purchasing a skimmer net from your local pool supply store, make sure you have one with a long, retractable handle so it's able to reach all corners of your pool.
Pool Cover
Aside from a skimmer net, having a high-quality and well-fitting pool cover is paramount to keeping your pool pristine and sparkling clean. Pool covers keep leaves and other large debris out, add an extra layer of safety, and keep your water at a consistent temperature. When you're building your new backyard swimming pool, various pool companies in Toronto will have different choices to suit your personal preference, ranging from simple covers to automatic rolling covers. At Seaway Pools & Hot Tubs, we offer custom fit covers.
Pool Vacuum
A pool vacuum is a fantastic investment for keeping your pool free of dirt and algae. If too much dirt and algae accumulate on the pool floor, it will become slippery and unsightly. To ensure that your pool is always well-balanced, try to vacuum it at least once a week. If you can't find the time to vacuum your pool manually, you might benefit from an automatic pool vacuum. Once you turn on your robotic pool vacuum, it will keep your pool clean and free of dirt and algae while you relax at home.
Pool Sanitizer and Shock
Stocking up on pool sanitizers is always a good idea, especially when building your new backyard swimming pool. Whether you use tablets, liquid, or powder sanitizers, you can find it all online at Seaway Pools & Hot Tubs. No matter which sanitizing system you use, it's also imperative to keep pool shock on hand at all times. If your pool has algae at some point, having pool shock will help combat the issue quickly and effortlessly.
Water Test Kit
If you want to keep your pool at its best this summer, it's essential to regularly test the water to ensure it's balanced. While testing the water may not be the first order of business on your agenda for getting your pool ready, it's good to get into the routine of doing it three times a week with a water testing kit. At Seaway Pools & Hot Tubs, we offer free in-store water analysis, so feel free to come visit us in Newmarket or Markham.
When shopping for your new backyard swimming pool this season, Seaway Pools & Hot Tubs has everything you need online.