Plan a Poolside Thanksgiving Get Together
As Thanksgiving approaches, a great way to indulge in the festivities while spending quality time with loved ones is with a poolside dinner. Enable the indulgence of a traditional Thanksgiving dinner with the refreshing ambiance of a poolside gathering with your trusted backyard partners and pool contractors at Seaway Pools & Hot Tubs. To elevate your backyard dinner this Fall, shop backyard accessories and pool supplies online or in-store with Seaway Pools & Hot Tubs.
Here's how to host Thanksgiving this year, poolside with Seaway Pools & Hot Tubs.
Beat the Chill with Backyard Heaters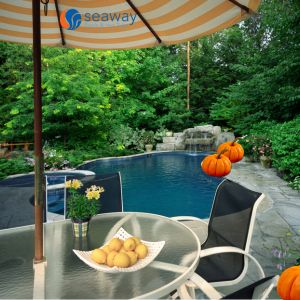 Investing in outdoor heaters is an excellent way to extend the season and ensure your poolside gathering is comfortable. Around Thanksgiving, the temperature begins to drop, and there is often a subtle chill outdoors. When strategically placed around the pool area, a backyard heater can combat that cold to keep your guests cozy and warm. Our pool contractors can help you choose the right heaters to fit your specific needs.
Privacy Trellis for Intimate Gatherings
When you're outdoors on a busy holiday, the outdoors can leave you feeling slightly exposed. Adding a privacy trellis around your fence can create an intimate and cozy atmosphere. This seamless addition not only offers a sense of seclusion but also acts as an aesthetic backdrop for your Thanksgiving celebration. You can even intertwine fall-coloured leaves into the trellis for a more festive setting.
Fire Pit for Longer Nights
A poolside Thanksgiving get-together is incomplete without a fire pit. Serve dessert over the fire and intimate conversations with family and friends. Imagine roasting marshmallows, sharing stories, and enjoying the crackling warmth of a fire on a crisp autumn night. Fire pits come in various styles, so you can choose one that complements your backyard's design.
Hot Tubs for Post-Dinner Relaxation
One of the key elements that can elevate your poolside Thanksgiving experience is a hot tub. After you and your guests are done eating, a backyard hot tub in Toronto gives the perfect way to end your holiday dinner and chilly October nights.
Expertise of Our Pool Contractors
If you want to make more significant changes to your poolside area, such as installing a hot tub, heaters, or a privacy trellis, consider consulting with pool contractors. The Seaway Pools & Hot Tubs team can provide valuable insights, offer design suggestions, and ensure that your backyard transformation is executed flawlessly. For pool reconstructions and upgrades, trust our team of award-winning pool contractors.
The Perfect Thanksgiving with Seaway Pools & Hot Tubs
Hosting a poolside Thanksgiving get-together can be a unique and memorable way to celebrate the holiday season. With the right additions, such as hot tubs, heaters, privacy trellises, fire pits, and lush plants, you can create a warm and inviting atmosphere for your guests to enjoy. For the best backyard updates and features, shop for pool supplies online and seek the expertise of pool contractors to make your vision a reality. This Thanksgiving, step away from the traditional and embrace the joys of a poolside celebration – where warmth, comfort, and nature come together to create a truly unforgettable experience.