Late Summer Swimming Pool Additions
Are you looking to soak up the last bit of summer? Whether you already have a pool or are considering installing one, now is the time to make these changes. Seaway Pools & Hot Tubs is an award-winning pool company offering top-tier products, skilled installation, and reliable maintenance services throughout Southern Ontario, whether it's an above-ground or inground pool. Shop our online store for accessories, pool supplies, and more, or visit our fully-stocked showrooms in Newmarket or Markham to view our extensive line of products.
Read on to learn more about last-minute swimming pool additions.
It's Not Too Late for Pool Installations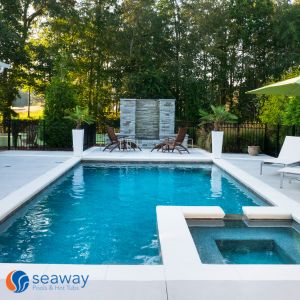 If you are looking to install a backyard pool, now is the time to do so for several reasons:
Save time: Getting your pool installed on the books during the falls means that you don't have to wait through the hot summer months for your pool company to complete the build; come the start of summer, all you need is pool opening services and to jump right in.
No waiting: With high demand for pools once the temperature rises, installing your pool can take weeks to months. Get your pool installed quicker so you have it ready for next season.
Better weather conditions: It's often harder to excavate when it rains. Spring and summer months often experience more rain than the late summer months. It can take a while for the installation to happen as the area must be dry to apply tiles and such.
By taking advantage of the slower months, you can prepare your pool for the following summer.
How to Upgrade Your Pool for Next Season
You may search for new additions to upgrade your backyard swimming pool. If you feel that your backyard is looking a little mundane, explore the following options to spice things up:
Water features
Floaties
A hot tub
Patio Furniture
Enhancing your outdoor area creates a personalized experience for you and your guests to enjoy. Get ready for next summer or enjoy summer's last bits with an upgraded inground pool area.
Covering up for the Cold Months
As the colder months are just around the corner, get a pool cover for next year to keep your pool intact. To lengthen the lifespan of your pool, be sure to perform the correct closing procedure for your pool. This may include:
Balancing your water
Adding a shock treatment
Remove all pool accessories and equipment from the water
Lower water levels
Drain all equipment: filters, pumps, chlorinators and heaters
Add your pool cover
At Seaway Pools & Hot Tubs, our team of pool maintenance experts will streamline your pool closing using the best approach and materials to protect your backyard swimming pool in time for the winter. We also offer deals on pool closings and winter safety covers.
Last Minute with Seaway Pools & Hot Tubs
Rely on the trusted professionals at Seaway Pools & Hot Tubs to provide you with a high-quality pool experience. Our high-quality swimming pools and hot tubs are engineered for performance, so you can squeeze out every bit of summer. For over 40 years, we have been able to provide homeowners with pools and hot tubs to upgrade their homes and lives. For all things pools and hot tubs, contact Seaway Pools & Hot Tubs, the one-stop shop for all your hydro-therapy needs.