Ideal Hot Tub Temperatures in Toronto
With a hot tub in your home or backyard, you can access hydrotherapy at any time of day. When it comes to maintaining your hot tub in Toronto, it is easy to adjust the temperature and conditions to suit your personal needs. While everyone might have a personal preference for their hot tub temperature, there are ideal temperatures that are worth considering when using your hot tub this winter. Below, we have provided helpful tips for choosing the best temperature for your Beachcomber hot tub.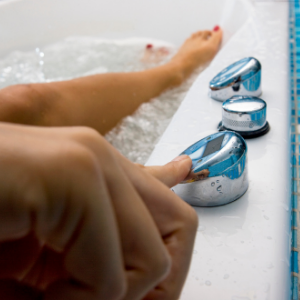 Different Temperatures for Summer and Winter
Many people choose to "set it and forget it" when it comes to their hot tub temperature. However, it's essential for hot tub owners in Toronto to adjust your temperature based on the seasons and your use of the tub. When it's warm outside in the summer, you may want to consider reducing the temperature of your hot tub to avoid overheating. On the other hand, in the winter months, you may want to increase the temperature of your tub to keep you warm during long, cold nights. It's also important to lower the temperature if you are using your hot tub after exercise, when you might already be warm and at risk of overheating.
Safe Temperature
Some people prefer to use their hot tub at very high temperatures. However, the US Consumer Product Safety Commission does not recommend using a hot tub above 104°F. Average Beachcomber hot tubs are set between 100°F and 102°F. At more moderate temperatures, it is safe to use your hot tub for periods of about 20 minutes. If you choose to lower the temperature, you can use the hot tub for longer periods of time.
Age of Bathers
The temperature of hot tubs in Toronto should take into consideration all the bathers using the hot tub. This includes children and the elderly who should not be exposed to high heat. Instead, consider lowering your hot tub's temperature to ensure it is safe for everyone using the hot tub. You can always adjust the temperature if the age or health conditions of bathers change.
Consider Health Conditions
Health conditions can also affect the safety of bathers using a hot tub at high temperatures. Pregnant women or individuals with heart disease or high blood pressure should not use a hot tub above 100°F. We recommend consulting with a physician before using a hot tub if you suffer from a health condition, are pregnant, or are expecting to become pregnant.
Seaway Pools & Hot Tubs sells a range of Beachcomber hot tubs and products to suit any outdoor living space and budget.
Seaway's online pool supplies store sells everything you need to take care of your hot tub this winter. We also sell, deliver, and install hot tubs to Toronto and the surrounding area. To learn more about any of our hot tub models or purchase a Beachcomber hot tub, contact the Seaway Markham team today at 905-294-8030 or connect with the Seaway Newmarket team 905-853-8500.