How to Use Your Beachcomber Hot Tub All Year Long?
Hot tubs are a fantastic way to decompress after a long day and can be used all year round — even during those cold Toronto winters. As long as you take care of your Beachcomber hot tub, it'll be in excellent condition, even on the snowiest winter evenings. If keeping up with maintenance throughout the winter months isn't the first thing on your to-do list, consider hiring a professional for maintenance and other hot tub services.
At Seaway Pools & Hot Tubs, you can guarantee that your hot tub in Toronto will be taken care of throughout all seasons.
Read on to know more about how you can use your Beachcomber hot tub all year.
Maintenance Throughout the Year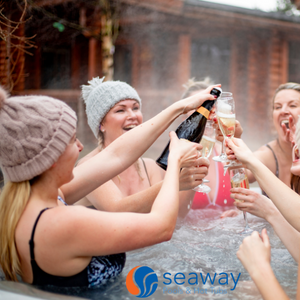 With consistent maintenance throughout the year, you'll be able to use your Beachcomber hot tub this winter with ease.When it comes to water levels, they must stay high; if water levels get too low, it may cause the pump or heater to freeze, resulting in permanent damage. Check your water levels frequently and add more as needed. Additionally, keep the water temperature high and consistent — not only does this help with energy efficiency, but it also prevents pipes from freezing.
Cleaning and Chemicals
Keeping the water in your hot tub clean is vital to regular maintenance. Make sure you regularly clean the filters, balance the chemicals, and test the water to ensure it's safe and clean. While it's always wise to have test strips and sanitizers on hand, stock up on supplies before the winter storms begin. To ensure consistent and clean water, keeping a maintenance schedule is a great way to do so. There's no better way to guarantee everything is on schedule than with hot tub services from Seaway Pools & Hot Tubs. We offer many options for hot tub maintenance and services, all suited to your needs. If you need to stock up on hot tub supplies in Toronto or the surrounding areas, you can shop our online pool and hot tub store or visit us in one of our two GTA showroom locations.
Covering Your Hot Tub
Even the best hot tubs in Toronto are vulnerable to the weather, so hot tub covers are critical to keeping your hot tub in prolonging their lifespan. High-quality hot tub covers prevent debris and dirt from entering your hot tub, so you must cover it whenever you aren't using it. In addition, a premium fitting hot tub cover helps with energy efficiency. It keeps your hot tub at a warm and consistent temperature.
Drain Before Colder Months
Before the temperature drops and the weather drastically changes, you must drain and refill your hot tub. Doing this boosts the effectiveness of your chemicals and sanitizers. Ideally, hot tubs need their water changed every three months, so it's wise to do this right before winter.
Choose Seaway Pools & Hot Tubs for Maintenance Services
Seaway Pools & Hot Tubs is your trusted company for monthly hot tub maintenance services. Our team will ensure that your hot tub is safe, clean, and healthy all year, even during those chilly winter months.