How to Transform Plunge Pools into Cocktail Pools
Plunge pools are inherently smaller than the traditional swimming pool in Toronto, which can leave some people concerned that the functionality is limited. But with the right pool company in Toronto, plunge pools are anything but one-dimensional. From health benefits to exercise options, the flexibility and refined aesthetic of a plunge pool can enhance any backyard in the GTA. At Seaway Pools & Hot Tubs, one of the most reputable pool companies in Toronto, we custom-built swimming pools, so pool lovers like you can transform your backyard into your own personal resort.
A popular plunge pool trend set to become popular next summer is the cocktail pool. Read on to learn how you can transform your small swimming pool into a cocktail pool.
What is a Cocktail Pool?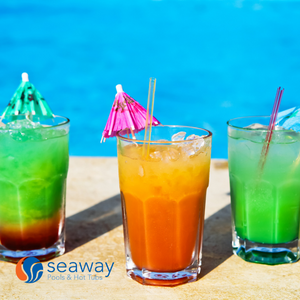 Cocktail pools, also known as "spools" are incredibly similar to plunge pools, which are small swimming pools that are typically pretty deep, usually ranging from 4 ft to 6 ft. However, unlike a plunge pool, cocktail pools are usually shallow so occupants can stand comfortably and have spa features, mainly jets. Cocktail pools are a great backyard swimming pool choice for those who love to spend the warm summer days entertaining since they facilitate socializing better than a plunge pool which is geared more towards activity.
Going From Plunge Pool to Cocktail Pool
Since cocktail pools have some clear differences from a plunge pool, it's a good idea to talk to pool companies in Toronto before summer begins. This will help you assess what kind of customization you'll be able to receive and how you can blend the two types of pools most effectively. If your plunge pool is less than 5 ft deep, occupants can probably stand comfortably. With the installation of jets, your small swimming pool is effectively a cocktail pool.
Customizing Your Swimming Pool
At Seaway Pools & Hot Tubs, we provide custom swimming pool and landscaping design services to help you transform your entire backyard experience. You can choose from semi-inground, in-ground pool options. And for your pool itself, you can add custom features from lights and waterfalls to handpicked stones and landscaping to match.
Patio Accessories to Match
For many people, the choice for a backyard cocktail pool, plunge pool, or hot tub in Toronto comes down to their love for entertaining at home. If that's the case, it's a good idea to build a patio that compliments your plunge pool. You can extend your backyard pool from day to night with cushions, fire pits, and gas heaters that create a cozy and comfortable ambiance, so, during chillier summer nights, you can grab your drinks from the pool to the patio for maximum enjoyment.
Choosing Seaway Pools & Hot Tubs
If you're looking for a swimming pool or hot tub in Toronto or the surrounding area, the team at Seaway Pools & Hot Tubs is here to help. With the 2022 season approaching sooner than you think, it's a great time to start dreaming up your perfect backyard.