How To Throw the Perfect Backyard Event
Blow up the pool floaties and fire up the barbeque. With summer in full gear, it's officially backyard party season. There are always ways to improve your backyard to give guests the best experience. Shopping pool supplies online or in-store at Seaway Pool & Hot Tubs makes finding all your swimming pool, hot tub, and backyard essentials easier than ever. We carry a vast selection of pool supplies, including hot tub accessories and cleaning products to streamline pool opening and pool maintenance services.
Find ways to make your backyard the perfect place to throw parties below.
Fun Games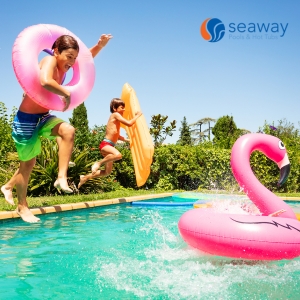 Make backyard events fun for everyone. Consider finding pool games that are child friendly or for everyone to play. Accessible floatation devices can be helpful for little children or individuals who do not know how to swim. It allows everyone to enjoy their time in the pool without being restricted to the shallow end. If you are competitive, consider investing in a basketball or volleyball net to play in the water. Pool rings or hoops can also be an excellent way to have fun with the kids.
Clean & Sanitize Your Pool
No one wants to swim in a dirty pool, so you must adopt a good routine to keep your pool clean from debris and insects. Not only will a clean pool be more enjoyable, but it will also lengthen the pool's life and require less maintenance. Here at Seaway, we carry all kinds of products that can help with the cleaning of your pool:
Cleaning services
Vacuums
Chlorinators
Brushes
Filters
Give your guests an unforgettable experience with a clean and fresh pool to enjoy that they want to come back to. You can be the talk of the neighbourhood!
Amplify Lighting and Music
Backyard events can go long into the night, so setting the mood at night is important. Incorporating lights into your backyard will keep the party outside for as long as it's going. For those late-night swims, enjoy lights inside your pool as well. Not only is it a safety precaution, but it can also elevate the look of your backyard. Explore colour-changing lights as well to liven up the party.
It's not a party without music. A small Bluetooth speaker is not enough to keep the party going. Look into sound systems for your backyard to enjoy music from every square foot.
Upgrade Your Outdoor Seating
Not everyone likes to swim, and sometimes it's not a swimming kind of day. That's no problem when you have a beautiful outdoor seating area to enjoy company, whether to enjoy the sun or hang out at night. Include a fire pit to roast marshmallows or stay warm on cool summer nights. The best memories are made around a fire.
Spice up Your Backyard with Seaway Pools & Hot tubs
Whatever the occasion, make it happen in your backyard. Seaway Pools & Hot Tubs is here to bring all your backyard visions to life. Shop hot tubs on sale and pool accessories to make summer 2023 one for the books. With over 40 years of experience, we pride ourselves on excellent customer service. Contact Seaway today to get your backyard ready for guests of all ages.