How to Prepare Your Swimming Pool This Spring
The temperature is warming up and snow is slowly beginning to clear, meaning the days of fun in the sun and backyard relaxation in your swimming pool are near. Before taking the first plunge of the season, there are a few steps that need to be taken in preparation for summer. You can get ready for pool season with supplies, accessories, and services available from Seaway Pools & Hot Tubs, your trusted pool company in Toronto. Visit our pool supply store online or in-store for all your backyard swimming pool needs.
Here are some tips to prepare your swimming pool for this spring.
Shop Equipment and Tools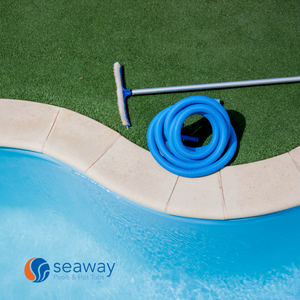 Before you start cleaning your pool, check all your essential pool equipment, like your filtration system, pool ionizer, and heater. Once all of these systems are reconnected and turned on, you'll need to run the filtration system in your pool for a while to ensure everything is running smoothly. If you aren't sure whether you have all the equipment you need, visit Seaway Pools & Hot Tubs, your local pool supply store, where our team will guarantee that you have everything you need.
Clean Your Pool Cover
Before removing your pool cover, clear all the dirt, leaves and other debris off it. Your pool cover is meant to keep your pool sparkling clean, so if you don't clean it before you take it off, you risk contaminating your pool water with debris collected over the past winter. Pool companies in Toronto understand the need for a premium pool cover to keep debris and snow out of your pool after a long winter, so it's best to invest in a high-quality and custom-fitted pool cover to keep it in top shape.
Skim and Vacuum
About one week before you plan on diving into your pool, get any unwanted debris out of the water by swimming it manually and with a pool vacuum. Most pool companies in Toronto stock skimmers, but for all your swimming pool accessories, visit Seaway Pools & Hot Tubs - a one stop shop. Despite your backyard pool sitting dormant all winter, there's still a high probability that some dirt and grime made its way through. Be sure to run your vacuum a full day or two for an immaculate pool.
Conduct a Pool Inspection
A pool inspector will identify any issues that may have evolved over the winter, such as small leaks or sealant cracks that are best fixed early on. Inspectors will look for any safety issues such as lighting malfunctions, electrical wiring is far away, even slipping hazards.
Test Water Chemistry
Once your pool is free of debris and dirt and has also been thoroughly inspected, it's time to rebalance the water chemistry. First you have to test the pool water to see where it stands. Some pool companies in Toronto, like Seaway Pools & Hot Tubs, provide free water analysis to help homeowners easily understand their pool needs.
Prep Pool Accessories & Toys
The last step of preparing your pool before your long-awaited swim is to prepare your swimming pool accessories and toys. Before reinstalling your step ladder, rails, or diving board, sanitize them and ensure they're free of rust and safe to use. Give your noodles, floats and other toys a good clean with a cloth to keep ensure they're sanitary and won't contaminate the water.
When you open your pool this year, visit Seaway Pools & Hot Tubs, where we will help you get it ready for summer.