How to Manage Swimming Pool Supply Stock
Opening your pool and getting ready for the summer is easier said than done. Trying to figure out what supplies you need for your pool and keeping track of them may seem overwhelming, but with Seaway Pools & Hot Tubs, our pool opening services can guide you in the right direction. When it comes to the end of the season, there's no need to stress; contact us for pool closing services to ensure everything is seamless and worry-free.
Read on to learn more about what products you need for your pool this season and how to manage them.
Products You Should Have Regularly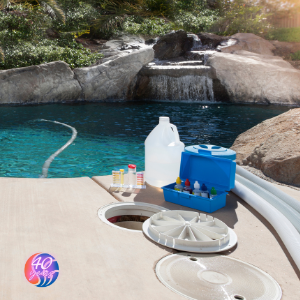 Before opening your pool this season, you should have a few products on hand immediately. To ensure the water in your swimming pool is balanced and safe, we recommend having water testing kits, water balancing products, and sanitizers readily available.
Water testing and balancing kits are frequently used, so you should always have some in stock at your home. At Seaway Pools & Hot Tubs, you can easily shop for water testing and balancing kits online or in one of our two GTA showrooms. We carry premium Aquacheck products for testing your water and IPG products to make balancing your swimming pool a breeze. To make things easy, check out the IPG Spring Pro Pool Opening Kit; this has everything you need in one box. If you prefer to take pool opening and swimming pool maintenance off your to-do list, we are happy to provide you with efficient and expert pool opening services.
Products You Need Less Frequently
Although the majority of swimming pool products from your local pool supply store are necessary throughout the season, there are a few that you don't need to use as frequently. Properly managing your swimming pool supplies and accessories starts with knowing what you should have in stock at all times and what equipment is needed less frequently. This makes maintenance, opening, and pool closing services from Seaway Pools & Hot Tubs more organized and less wasteful. For example, pool shock isn't something you need to have all the time — only once every two weeks or so. On the other hand, basic pool essentials and cleaning supplies like a brush and skimmer net can accomplish good maintenance results when used on a regular basis.
How to Keep Track of Your Supplies
Keeping track of your pool supplies may seem daunting, but it can easily be accomplished with some organization and notes. While this may seem tedious, try using a spreadsheet to keep track of your product usage. This way, the next time you use a cleaning agent, you'll know when you'll need to purchase more.
How to Easily Shop for Products
Seaway Pools & Hot Tubs has everything you need for your pool with just the swift click of a button. Our online shop will have the necessary cleaning agents, sanitizers, pool opening kits, and even toys so you can enjoy your pool this summer without any stress. For efficient and easy shopping, visit us online or in-store in Markham and Newmarket.