How to Keep Your Plunge Pool Open in the Fall
Though summer has come to an end and many people have decided to close their pool, the fun doesn't have to stop once it gets cooler outside. By taking care of your plunge pool, you can enjoy the perks of your swimming pool into the fall. Ontario is known for sudden weather fluctuations in the fall and with your plunge pool still open, you can enjoy a mid-October heat wave. At Seaway Pools & Hot Tubs, we offer various pool supplies in Toronto, including heaters to warm your plunge pool.
Shop our plunge pool packages and pool supplies at Seaway Pools & Hot Tubs' online store.
Here's how you can keep your plunge pool open in the fall.
Install a Swimming Pool Heater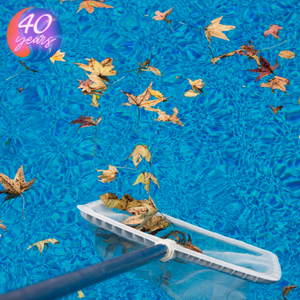 Since plunge pools are smaller than the traditional above ground or inground pool. As such, it's much easier to preserve a warm temperature with a heater. Since plunge pools are smaller and meant for fewer people, it doesn't take long to heat the water quickly. At Seaway Pools & Hot Tubs, we offer premium heaters that will keep your plunge pool warm and toasty throughout the season.
Cover Your Pool
The key to keeping your small swimming pool in good condition throughout the fall is to cover your pool when it is not in use. Covering your pool protects it from cold temperatures, minimizing evaporation during warm weather, and reducing chemical use for maintenance. A pool cover also helps to keep leaves and other fall debris out of your swimming pool and its filters. At Seaway Pools & Hot Tubs, we offer high-quality winter covers and pool supplies in Toronto to keep the heat in and the cool outdoor temperatures out.
Clean Your Pool More Often
The crisp fall weather calls for more leaves and critters in your plunge pool. To maintain a clean and healthy pool, frequent cleaning is required. Since leaves quickly fall and pests are trying to find a new home for winter, your pool is the perfect place to attract debris. Removing debris before it gets into your system and causes problems down the line is essential.
Run Your Pump
Your pump is an essential supply for every pool. Pumps allow the water to circulate chemicals evenly throughout the water so that it's sanitized and squeaky clean. You can have a filtered, sanitized, warm, and chlorinated pool just by running your pump a few hours a day.
Keep Your Eye on Temperatures
When keeping your plunge pool open in the fall, it's important to always be aware of the temperature outside and inside your pool. Since the weather is sometimes unpredictable, it can be warm one day and freezing the next. If you suspect temperatures will drop to freezing, run your water pump to keep the water from turning into ice. To prevent your pool from freezing, shop Seaway Pools & Hot Tubs online shop the non-toxic Lubrigel Anti-Freeze - curated for pools and hot tubs. When it starts to get cold, winterize your plunge pool with our pool closing services
Choose Seaway Pools & Hot Tubs
If you love swimming and aren't quite ready to close your plunge pool for the summer, use these tips to keep it open during the fall months. For cleaning and balancing services, safety cover installations, pool closing services, the experts at Seaway Pools & Hot Tubs are here to help!